#HeyMsDJ: DJ Saige Is Using Her Ear For Music To Create Her Own
The Lower East Side native recalls making her viral Coi Leray 'Players' remix, the lessons she learned from Funkmaster Flex, and more.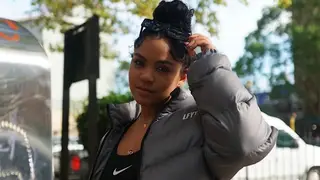 Hey, Ms. DJ is a new bet.com series highlighting the Black women DJs who know how to get a crowd moving.
DJ Saige is the north star when it comes to DJing and production in 2023.
The Lower East Side, Manhattan native always knew that music and art would be her calling, and it didn't take long for that to manifest. Growing up with a mixed heritage, she embraced her neighborhood because it in itself was very musical.
"I've always had that fusion of different cultures and I think that's exactly what the Lower East Side is – a fusion of different walks of life. It was such a heavy community-based area, definitely not where it is now," Saige told BET.com during a recent interview. "The East Village/Lower East Side was centered around the community, it has changed so much from when I was growing up...There was always music and culture everywhere. It shaped who I am, and played a major role in contributing to my love for music."
Early on in her DJing journey, Saige met Funkmaster Flex, who she says led by example. It's always all business with him, and that's how she keeps it behind the 1s and 2s.
"I think being so young and watching Flex, I just took notes," Saige explains. "I just watched how he moved, how professional he was, the fact that he didn't drink in the club. That was like a really big thing for me and I gained a lot of respect for him in seeing that because it's easy to get distracted obviously in nightlife."
While heeding the mentorship of one of the Big Apple's greatest DJs of all time, Saige recounts subsequently joining forces with DJ Enuff and The Heavy Hitters, a global crew of DJs who provide their elite services whenever hired, which she notes helped connect her with fans and collaborators alike all over the world.
"I got offered to be part of the Heavy Hitters naturally, just being in the Hot 97 environment and being part of the station at that moment," Saige says. "I think it was just an organic thing the way it happened, being around them and Enuff seeing like a young hustling DJ at the time, I was very hungry and very persistent. It obviously opened a lot of doors for me just knowing that Heavy Hitters are around the entire world."
Most recently, DJ Saige went viral for her Coi Leray "Players" remix, which she mashed up with Busta Rhymes' "Put Your Hands Where My Eyes Could See". According to her, the song was nothing but checking through a few classic records and matching BPMs. It was never supposed to be more than that in her eyes.
"I've always been making mashups at the crib and really heavily working on the production. When I heard both of these records, I was like, This sounds fire – the old school classic with a new school – and they were both in the same key," she says. "So I think having that musical background, I understood what sounded good and I just did it, honestly. It just blew up on TikTok. It wasn't even like, this is gonna be the one like, you know, it just kind of just happened. I think that people decided too. That [Busta Rhymes] record is such a classic record."
Saige is also not afraid to show off her own process via social media. In numerous videos posted to her Instagram account, she's demonstrated how incredible her ear is for records, which she says comes from years of digging through the crates.
"I think I've only touched the surface in letting people in. Look for new content because I'm definitely gonna start breaking that down," she states. "But I really, truly believe being a DJ for so long, and being in this game and really studying the music, not just doing things for the hype, like really understanding records and samples and where music comes from, I just have that ear a little bit. And I know these records so well. I've been doing it for a while, whether it's on the radio or whatever."
Regardless, DJ Saige's plan going forward is to keep relaying her ear and taste through her DJing to the masses. But she's also working on expanding her original music catalog, which is already off to a hot start.
"I think this Coi Leray moment was a teaser of what I could do and I think now it's really go time," she says. "Just collaborating with other artists and stepping into being an artist and creative myself, not just the DJ. DJing is my baby. It's always gonna be there. But there are so many layers to this and my goal is to drop singles this year."
Stream DJ Saige's mashups via Bandcamp here.