Rep. Paul Ryan Says Inner-City Culture Remarks Were Inarticulate, Not Racist
Rep. Paul Ryan says his comments about poverty were inarticulate.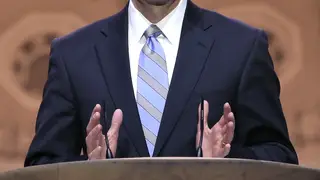 (Photo: Mark Wilson/Getty Images)
"We have this tailspin of culture, in our inner cities in particular, of men not working and just generations of men not even thinking about working or learning the value and the culture of work," he told Morning in America host Bob Bennett Wednesday morning.
Ryan also cited the work of the social scientist and American Enterprise Institute fellow Charles Murray, who believes that African-Americans are genetically inferior and less intelligent than whites. He also says that social welfare programs have failed and should be eliminated.
"We've got to have the courage to face that down, just like we did with welfare reform in the late 1990s," Ryan told Bennett. "And if we succeed, we can help recitate this culture. And get people back to work, and get people back to meeting their potential."
"My colleague Congressman Ryan's comments about 'inner city' poverty are a thinly veiled racial attack and cannot be tolerated," the California Democrat said in a statement. "Let's be clear, when Mr. Ryan says 'inner city,' when he says, 'culture,' these are simply code words for what he really means: 'Black.'"
On Thursday morning, Ryan issued a statement to reporters in which he said he'd actually not sought to single out one community but implicate "society as a whole."
"After reading the transcript of yesterday morning's interview, it is clear that I was inarticulate about the point I was trying to make. I was not implicating the culture of one community — but of society as a whole," Ryan said. "We have allowed our society to isolate or quarantine the poor rather than integrate people into our communities. The predictable result has been multi-generational poverty and little opportunity."
That explanation is unlikely to placate Lee and others who think his original intent was crystal clear.
In her statement, Lee suggested that Ryan "step up and produce some legitimate proposals on how to tackle poverty and racial discrimination in America" instead of placing blame.
"His uninformed policy proposals continue to increase poverty, not solve it. My colleague is demonstrating a complete lack of knowledge and understanding of the issues in urban and Black communities," she said.
BET Politics - Your source for the latest news, photos and videos illuminating key issues and personalities in African-American political life, plus commentary from some of our liveliest voices. Click here to subscribe to our newsletter.