Bre Tiesi, Nick Cannon's Child's Mother, Claps Back At Critics Suggesting She Need Financial Help With Baby
"He's not my sugar daddy."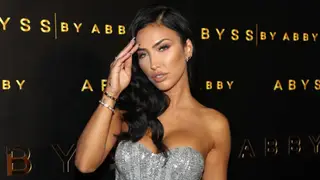 Nick Cannon's unorthodox approach to relationships and raising children has been the subject of much interest, while the actor and host usually keeps the details of his private life under wraps. The questions, then, sometimes fall on the women with whom he's had children. Now, one is speaking out against critics suggesting Cannon's not doing enough to parent their child.
Bre Tiesi, a Selling Sunset star and mother of Cannon's son Legendary, recently shared a video on her social media during which she noted that she hadn't gotten a full night of sleep "in like three days" because her 2-month-old son had been "screaming his little head off" every night.
This prompted a concerned fan to DM Tiesi to suggest she "get a night nurse to help you," while adding, "Having a baby takes a damn village." Tiesi saw the message, to which she responded, "Lol ya sure u wanna pay for it?"
The IG user then suggested Tiesi ask her son's father to pay for the childcare service. Bre immediately shut that down, writing, "I don't need your unsolicited advice thanks. U have some f*****g nerve."
Almost a week later, on September 25, Tiesi took a screenshot of the exchange and shared it to her Instagram Story and expanded on the unwarranted suggestion.
"KEEP MY PARENTING, MY KID AND MY BABY DADDY'S NAME OUT UR MOUTH," wrote Tiesi, according to BLAVITY. "Nick is NOT my sugar daddy. Nick is MY F***n CHILDS FATHER THAT IS ALL. Watch your f***n mouth when you speak on mine!"
After Twitter reacted to Tiesi's message she again took to social media to comment on the situation, explaining she was simply complaining because her son is teething early and a relative accidentally spilling her breast milk irritated her son further. She added that none of this was to comment on Cannon's fatherly support.
"Not sure how ANYTHING I was saying had to do with needing a night nurse or Nick at all," she wrote on Instagram Story, adding that "NO ONE was complaining and NO ONE was talking about Nick. This person decided to bring him up and add a money face and loop Nick into it she took it there just like everyone else does and I hear it allll day."