Pregnant Bre Tiesi Reveals Details About Her Relationship With Nick Cannon, Plus Shares Her Birthing Plan!
"I've been waiting for this moment and I cannot wait."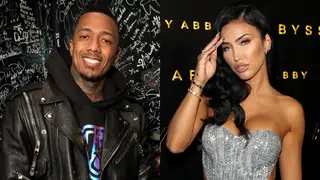 Nick Cannon and Breana "Bre" Tiesi are expecting their first child together! While chatting with E! News' Daily Pop, the real estate agent and model revealed her birthing plan, along with details about her relationship with the entertainer. Keep scrolling to get the deets!
"I am so excited. This is my firstborn," Tiesi explained on the show that aired Tuesday (March 29). "I've been waiting for this moment and I cannot wait."
This makes baby no. 8 for Cannon, who is celebrated as a very involved co-parent. When asked how she defines her relationship with Cannon, Tiesi explained that it is both  "beautiful" and "transparent."
"I think some people have their idea of conventional relationships, but we have a beautiful relationship. Everything is so supportive and positive. And you know, we actually have a very long history—we're going on almost a decade," she shared about her on-and-off relationship with the talk show host. "I think for me, it is like; my family, my relationship, that's my business, and I support everything and everyone involved. And I'm just really excited to have a son."
She continued, "We're very transparent. [...] I just respect and love who he is so much as a person."
The soon-to-be mom, who plans to have an unmedicated water birth at home, went on to share that she hopes that her son has a wholesome personality like his father. "He treats me amazing."
When it comes to her relationship with the other mothers, Tiesi says it's all about support and giving each other space. "I feel like everybody is focused on their own family and their own situation. And we're all very supportive and just respect that," she explained. "And if you need anything, we're here. [...] I feel like as adults, our kids are going to be together so I don't think there will ever be an issue. I don't know of any issues. It definitely won't be one with me."
In January, the paparazzi spotted Tiesi and Cannon hosting a gender reveal party in Malibu, California.
Congratulations to the pair who will welcome a baby boy later this year!