Director of Nina Simone Documentary Calls Biopic 'Ugly and Inaccurate'
He says Zoe Saldana's casting is only half the problem.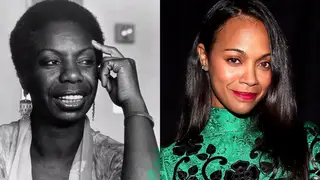 The controversy involving the casting and story in the upcoming Nina Simone biopic is continuing with Jeff Lieberman, the director of a documentary based on the singer's life, expressing this disapproval of the project. 
"Robert Johnson's defense of his film Nina was not only insulting, it was 100 percent wrong," he wrote in a guest column on The Hollywood Reporter. "I am saddened by the ugly and inaccurate portrayal contained in the script and trailer of Nina and by Mr. Johnson's desperate attempt to defend the project. Since Mr. Johnson is a Black man who lived through the 1960s, I am surprised he does not know what Nina Simone stood for, both for herself and for the hundreds of thousands of people she inspired along the way."
Expanding on his problem with the film, Lieberman, who directed The Amazing Nina Simone, said Zoe Saldana's controversial casting is only half the problem. The overarching issue, according to him, is the film's main focus not being on Simone's incredible career, but rather one of the lowest points in her life.
"The 1970s and 1980s were sadder times for Ms. Simone, and the 1990s perhaps the bleakest," he wrote. "I had the opportunity to read the script for Nina four years ago, and it chose to focus on the 1990s.... The trailer for Nina reveals Ms. Saldana as Nina brandishing a gun, being strapped down in a hospital and throwing champagne bottles. Where there wasn't truth, they invented it — turning Ms. Simone's assistant, Clifton Henderson (played by David Oyelowo), into a love interest, despite the fact that he was an out gay man."
Lieberman went on to address many more inaccuracies he sees in the film in the remainder of his column. Check it out here.
Watch Zoe Saldana talk about the backlash she's received for the role in our exclusive interview below:
BET.com is your No. 1 source for Black celebrity news, photos, exclusive videos and all the latest in the world of hip hop and R&B music.