Ayesha Curry Proudly Cheers At Steph Curry's College Graduation Ceremony: 'YOU DID IT!'
There's nothing like having a solid support system!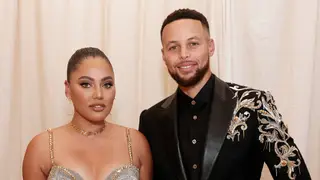 The room erupted with excitement as the basketball star received his diploma. Filled with pride, Ayesha Curry was front row at the ceremony cheering her husband on!
The proud wife posted the following video on Instagram, along with a caption that read: "Proud is truly an understatement. The ultimate man of his word right here! I've never seen someone set goals and attack them head on the way he does. He is simply unmatched because he is one of a kind. I love you @stephencurry30 YOU DID IT!"
The social media post shared on September 1 also featured an adorable photo of the couple's 4-year-old son Canon holding a custom poster board that read: "Curry For 3."
FYI: According to the NY Post, Curry attended the school from 2006 to 2009. Thirteen years later, the busy father-of-three re-enrolled in the university to complete his undergraduate degree in one semester. Unfortunately, Curry was unable to attend the college's graduation in May because of the NBA playoffs.
Aww, congratulations to Steph on his big accomplishment! There's nothing we enjoy more than watching our people win.