#BabyLove: Chrissy Teigen and Omarion's Little Ones Give Us All the Feels
In these tumultuous times, this cuteness is exactly what the doctor ordered.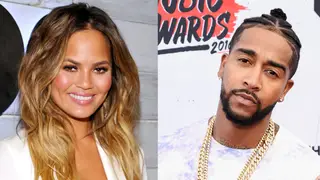 Thanks to the news about police brutality, terrorism and Donald Trump, it's clear that we all need a little pick-me-up.
No worries, we got you with these delightful examples of utter baby love. 
First up are Chrissy Teigen and her bundle of joy Luna. As the model and chef was gearing up for a Beyoncé concert in Milan, hubby John Legend posted up the cutest video of his wife cuddling and kissing their adorable daughter while listening to "Blue." 
If that wasn't enough, singer Omarion's ex Apryl Jones posted their sweet babies Megaa and A'mei showing each other major love.
And we love y'all right back!
Now, if that doesn't make your ovaries twinge and forget that the world right now is an utter mess, nothing else will.