9 Great Black Performances The Oscars Missed But You Should Still See
BET picks nine outstanding films and performances from 2018 that were denied recognition by the Film Academy that you should still watch.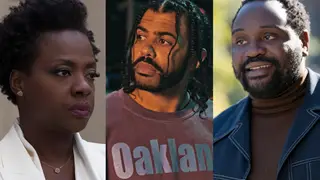 The problem of be-all, end-all awards shows like the Academy Awards or the Golden Globes representing the top of the mountain is that they're inherently biased. They're trying to find and label the "best" in a subjective area like film (already a difficult proposition) and they don't have the tools or the time to create an equitably representative group of top choices. And media is so vast now, the Academy Awards have to consider streaming giants like Netflix among their pool of choices as well as festival films that need every push from every independent critic and outlet to gain recognition. But fortunately, Oscar season gives us the perfect opportunity to offer recognition, praise and encouragement to the works the other institutions either overlooked or were unable to see at all.  

Here are nine noteworthy performances from Black stars in 2018 that you should add to your watch list.
LaKetih Stanfield announced his arrival as a Hollywood lead by carrying Sorry To Bother You, 2018's unusual cinematic take on everything from the usefulness of your "white voice" at work to the role of jobs in society. Stanfield shines as Cassius Green, a call center employee aiming to save himself and his family from a predatory economy that wants to rob them of a home and basic dignity. But in his attempt to break the system by working within it, he learns his limits are lower than his appetite for money and power. In a film that sometimes meanders between gripping plot lines and moralist preaching, Stanfield anchors his role in moments of humbling wisdom and profound resignation. Although he didn't score an Oscar nom this year, his breakout role in Sorry To Bother You shows that it won't be long before he does.


Who among us can avert our eyes from Viola Davis as she musters her trembling cry? Davis seethes and writhes in her most prominent roles (Doubt and The Help come to mind) but rarely does she claim overt, brazen power. In Widows, however, a caper movie in the style of Ocean's Eleven, she's the perfect ringleader. Davis's character Veronica must discover her bent for crime in an urgent heist while grieving for a late husband (played Liam Neeson). The role calls for Davis to express grueling need and unbreakable poise in the same breaths and she delivers. Director Steve McQueen also moves the story masterfully by giving the audience intimate space and time with each member of the ensemble and bathing them in lush scenery alongside drastic blacks, whites and grays. For these beats, Davis cries, yes, but she also burns inside, looking for control and respite from her enormous loss.

Daniel Kaluuya in Widows (2018)
Although Get Out made Daniel Kaluuya a star to watch for years to come, the London actor clearly has much more skill to boast as a shifty antagonist, as evidenced by villainous turns in Black Panther and Widows. As Jatemme Manning, Kaluuya could've played a grinning, evil henchmen with typical disdain for human life. But he doesn't. He positions himself as the protector of his brother and a wild card, unwilling to budge from his tough guy perch when stakes get higher. Kaluuya needs few lines and even fewer intense stares to convey meaning and weight here. And though, in real life, his modest stature won't match the hulking bodies of co-stars like Michael B. Jordan or Brian Tyree Henry, his figure looms large as he becomes the character whose moves we watch in suspended paranoia.

Brian Tyree Henry in If Beale Street Could Talk 

Brian Tyree Henry's brief appearance in the romantic tragedy If Beale Street Could Talk, a James Baldwin novel converted to a powerhouse film, betrays the importance of the role. He uses minimal screen time to underscore the broadest themes in the period piece about the harsh consequences of wrongful imprisonment. Henry's explosive laughter, rumbling tears, and brooding reflection on the trauma of prison foretell the coming disappointment of the year's most tender and bruising story. The Atlanta stand-out finds home in a stagnant smile or a grunted compliment but never makes the scene about him more than about its mood. It's a gift he gives us whenever he enters the frame and we need to recognize it just as often.  

Nia Long in Roxanne, Roxanne 
Nia Long's later career roles have reshaped what we think she's capable of. As a supporting player in Roxanne, Roxanne, she provides the gritty backdrop to unlikely success with her role as Ms. Peggy. In a biopic that verges on camp, with its nods to 80s slang and staged street battles, Long ascends to new heights in her role as the alcoholic parent unsure of how to understand and encourage her child's success without losing her to it. Although that trope has its ceiling (it's been explored many times in many music biopics), Long doesn't bind herself to angry outbursts alone, choosing instead to plead with her daughter, the MC Roxanne, to remain grounded in the face of popularity. What results is a mother who wants to brim with pride but can't because she's too busy succumbing to doubt and self-harm. Long's performance reminds us that abuse in families only needs a seed to grow into larger generational problems. It takes a seasoned, big performer to plant that seed.

Elvire Emanuelle in First Match 

Elvire Emanuelle accomplishes so much in her debut role First Match that she'll need support, grace, and patience to live up to the mark she's set. First Match tells the story of a young woman struggling through adolescence and longing for a connection to her absentee father. She latches on to the idea of street fighting because her wayward dad once thrived as a boxer and, in her, he sees an opportunity for a come-up. What follows is an age-old character journey: the need to receive love from a parent unwilling or unable to give it. But what sets Emanuelle and her character "Mo" apart from others is her resilience in the face of abandonment and neglect. Emanuelle neither buckles to the pressure of constant physical battles nor allows her co-star figure (played well by Yahya Abdul-Mateen) to overshadow her with experience. The indie upstart film deserves as much attention as its emerging lead.

Daveed Diggs makes a run at 2019's Best Actor trophy by working every muscle of his psyche in the taut drama Blindspotting. True to its name, the tale of a mismatched but forever-loyal Oakland duo — one black, one white, one mild-mannered, one war-like — explains the universal problem of humanity: missing your blind spot. We love, care, and fight for people who live in these special spaces, immune from our judgment and common sense because, well, they're family. We know they may not ride for us the way we ride for them or even consider us with the decency we'd offer them in spades. Collin (played by Daveed Diggs) protects Miles (played by Rafael Casal) from himself but it nearly costs Collin's black-ass life in so many mishaps that it forces both friends to buck against the other's co-dependent and futile habits. Diggs's character feeds off the everyday hustle, a scramble against God-like forces in his life from his mother to his halfway house counselor to his disappointed ex-girlfriend, all who expect and want more from him than he seems to want for himself. Diggs remains endearing throughout, challenging stereotypes of masculinity and Blackness in a performance that upends those ideas.

The Hate U Give takes on the challenge of rendering a best-selling novel into a visual work that honors the author's voice but also expands the dimension of the story. Oftentimes, the challenge of building a young adult story that can touch the lives of young people and anyone remembering their youth is avoiding the tendency to oversimplify. Police brutality and racial violence make this story visceral and troubling because we've seen it play out this way in too many headlines. Amandla Stenberg does an amazing job of showing how that tension between your social role as a young person and your stolen innocence as a Black American come into conflict during episodes of public tragedy. In her role as Starr, she grows past chastened sweetheart figure and confronts the too-familiar maturation process of "a Black woman coping." The film is a definite win for director George Tillman Jr. with a coming-of-age hue we'll revisit as Stenberg's star continues to blaze.

Ryan Coogler is one of the film industry's best directors bar none. He has all hits and no misses and consistently brings the most out of his casts despite being one of the youngest in his field. Coogler proved his unreal intuition yet again in Black Panther, where he imagined a world and a script that would exemplify Black power and beauty before unseen. Coogler ground his stories in locales that he knows well (in this case, urban California), and then builds out from there. But the challenge of creating Wakanda, a utopia that lasts in our cultural imagination, a fever dream of Black liberation only a select few might attempt to manifest, is where Coogler excelled. The Marvel universe provides unique tools but also comes with the fanatical expectations and big budget requirements. Coogler rose to the occasion by focusing the immense talents of his cast in critical scenes like the Wakandan initiation ritual, the Killmonger takeover and the opening museum heist. For his ability to distill grand images and ideas into epic scenes, we'll continue to support Coogler as one of our own incredible stars. For his consistency at turning in great films that please audiences and smash the box office, Hollywood will need to find more gold for his mantle.