Activism Is Part of the New Congressional Black Caucus Chairman's DNA
A look at the life of Rep. G.K. Butterfield.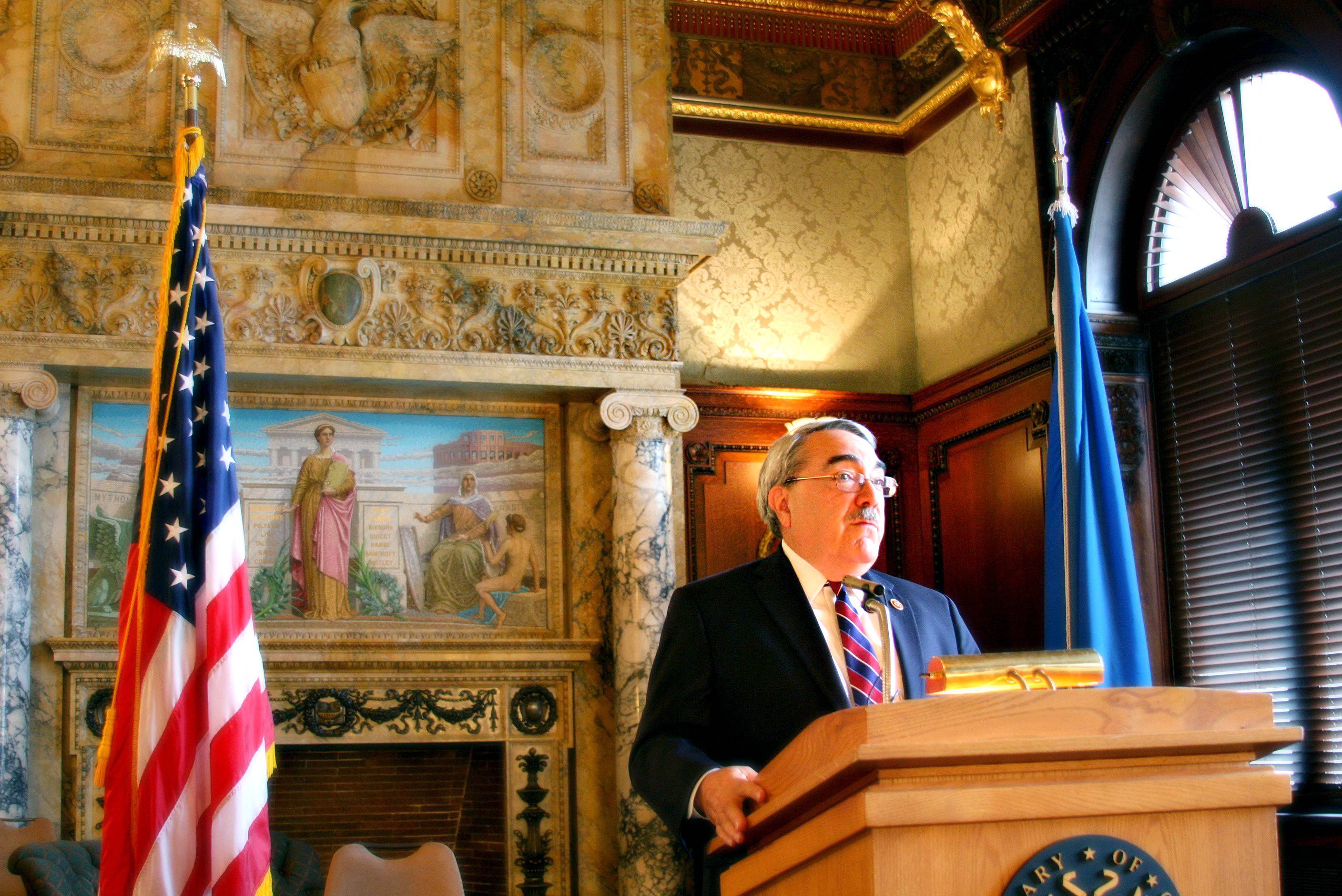 For most of his 68 years, Rep. G.K. Butterfield (D-North Carolina) has viewed the world through a civil rights lens. As a boy, he witnessed his father, an immigrant from Bermuda, found a local NAACP chapter that every Saturday prepared Blacks for the literacy test required to register to vote; win election to the city council in their deeply segregated home town of Wilson and then be edged out later by a tactic employed by the white power structure that essentially suppressed the Black vote.
The leaders on his side of the color line put up a fight and sued the city in a case that went all the way to the U.S. Supreme Court. They lost, but throughout the process, 12-year-old George, as Butterfield was called back then, was watching and taking notes.
"I understood that if the power structure was working so hard to try to take something away from you it must be important, [otherwise] they wouldn't waste all of their time, energy and money," he recalled in an interview with BET.com. "I grew up understanding that the power of the ballot box was what made people respect you. That was my experience as a child."
In 1963, he formed a junior NAACP chapter in Wilson that hundreds of local kids joined. Each Sunday after church, they gathered to march in protest of segregated public facilities. Some parents warned their children to not get involved in an effort that they believed was destined to invite trouble, while some encouraged the youthful activism.
"[They] said, 'Baby, go on down there and be a part of it. I can't do it because I work in Miss So-and-So's kitchen, but they don't know who you are, so go out there and participate,'" said Butterfield, who with his friend, Superior Court Judge Toby Fetch, was at the head of the line. "We were just crazy and we were activists. And everything we could think of we would just do."
Considering the danger faced by so many civil rights activists fighting for equality across the South, they were an extraordinarily brave lot, shutting down streets and attracting police attention. Other activities included emptying the water out of a segregated public swimming pool; entering a white recreation center and shooting basketballs; and sitting in cars for hours blocking the entrance at the drive-in theater, which cost the business revenue.
Of course, change didn't come until the Civil Rights Act of 1964 was enacted and legally forced the end of segregated public facilities, but the young people had made their point
"I grew up an activist and when I went to college I took that activism with me," Butterfield said. During his freshman year at North Carolina Central University, he began organizing voter registration drives.
Fighting for voting rights and encouraging others to use their voice at the ballot box was something of a family tradition. When Butterfield's father first established his dental practice in the '20s, members of the white establishment in Wilson called on him to welcome him and offer congratulations for offering a vital service in the "colored community." And because his wife's father was the child of a slave and master, they considered her a relative "even though we don't talk about it publicly," and offered him a helping hand, if needed, and the opportunity to register to vote without having to take a literacy test or overcome other hurdles that Blacks faced. That made him Wilson's 40th Black registered voter, he would later tell his son.
"Then he started advocating for other people to register and the white power structure came to him and said, 'You don't understand: we did you a favor. You shall not try to register other colored people and if you do, your life will be unpleasant,'" Butterfield says.
Soon after, the Great Depression arrived, forcing everyone to change their priorities. But when it was over and things were once again going well for Butterfield's father, he resumed voter registration efforts.
"I guess by this time, my daddy's feeling pretty good: he's got a son, he's got a little bit of money in his pocket and his dental practice going. The depression is over, so now it's time for him to get back into voter registration. He founded the local NAACP branch and they went about the business of trying to register people to vote," said Butterfield.
His father also won a seat on the city council to which he was re-elected. But while the family was on an Easter vacation in New York City, an "emergency meeting" was held during which the rules were changed in a way that made it impossible for Blacks to elect a Black representative, which led to the Supreme Court case that made Butterfield appreciate the power of the vote while just a tween.
So, when the Voting Rights Act passed in 1965, he was certain that African-Americans would register in droves, which didn't happen. In 1968, he led a student march from Raleigh to his hometown to encourage people to register.
"It took us three days and the purpose was to dramatize the importance of voter registration. Also that year a Black man was running for governor and a Black woman for Congress. We knew they couldn't win but they and my 50-mile march could stimulate people to register," Butterfield said.
The number of eligible voters in his community doubled and Butterfield, who would soon turn 21, was among them.
As many civil rights activists have learned, their fervor can cost them in many different ways. After Martin Luther King Jr.'s assassination, Butterfield planned to spend the summer working for the Student Christian Leadership Council under the direction of Jesse Jackson Sr. But after just a couple of days, his parents informed him that he'd been drafted into the Army and ordered to report for duty on June 7, 1968. He was positive it had to be a mistake because he was still in college.
"So I went to the draft board and they said it was no mistake, you gotta go into the Army," he said. "My mother went to her grave believing it was because of my political activity and she was probably right, although I can't prove it."
But if Uncle Sam imagined that the Army would dull his activist bent, he was kidding himself. During his two-year stint at Fort Bragg in Fayetteville, Butterfield organized public housing tenants in protests for better living conditions and voter registration activities. Upon discharge, he completed his last year of college and then went on to law school and a practice that focused on providing legal services to low-income clients and, of course, voting rights cases. His district now boasts more than 300 Black elected officials.
The only time Butterfield has been silent on civil rights issues was during his 15 years as a judge, and even then he wasn't completely quiet. He stepped down from the bench in 2004 when he was won a seat in Congress in a special election.
As the lawmaker observes the youth-led protests taking place across the nation in response to the killing of unarmed Black men, he applauds their enthusiasm and says the demonstrations and marches are important. But if they were to seek his advice, he would counsel them to do more.
Ferguson, he says, should be used as a test case to demonstrate the major advances that can be made by simply voting. Currently, less than one-half or one-third of eligible African-American voters are showing up at the polls, which means that people who may not share their interests are elected and in control.
Given the opportunity to sit down with young activists, he said, "I will tell them to take their passion to the ballot box. Recruit Black people to run for office and support those candidates. Take over the board of education and the city council and then restructure the police department from the top down."
Such efforts, he added, would not only benefit Ferguson, but also would "be a signal to communities all across the country that we are going to use all of the resources available to us to protect our communities."
BET Politics - Your source for the latest news, photos and videos illuminating key issues and personalities in African-American political life, plus commentary from some of our liveliest voices. Click here to subscribe to our newsletter.
(Photo: Courtesy of the Office of G.K Butterfield)