Report: Knife Found on OJ Simpson Property 'Inconsistent' With Murders
Tests found no suspecting materials on the weapon.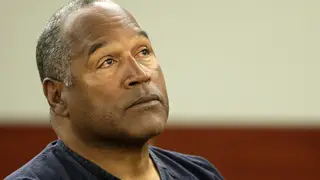 It was recently reported that a knife was found on the grounds where O.J. Simpson once lived. Now, after a series of tests were run, officials report the weapon is inconsistent with the 1994 murders of Nicole Brown Simpson and Ronald Goldman.
According to NBC News, the knife only had dirt and mud on it. It was dug up by a construction worker in 2001, at least seven years following the highly publicized murders. It was then turned over to retired LAPD officer George Maycott while he was working off-duty near the former athlete's estate.
It was also reported that the weapon is a "small, inexpensive knife typically used by construction workers, gardeners, or landscapers."
In addition to the knife not having any traces of blood or other suspicious materials on it, it was also reported that the time it was buried to the time it was found does not accurately correlate with the time frame of the case.
Maycott, now 70 and retired from the police force, said he called the police to report the weapon but was allegedly told there was no way Simpson could be charged in the crime because of double jeopardy. According to his attorney, Maycott decided to keep the knife in  a bag, storing it in his garage for years before finally turning it over to officials in January. 
Simpson is currently serving a nine to 33-year sentence in state prison due to his October 2008 conviction charges for armed robbery and kidnapping.
Learn more about the new evidence found in the BET Breaks video, below:
BET.com is your No. 1 source for Black celebrity news, photos, exclusive videos and all the latest in the world of hip hop and R&B music.