Stephen and Riley Curry Teach Jeremy Lin How to Whip and Then Some
NBA MVP and adorable daughter also schooled the Hornets guard on how to Nae Nae.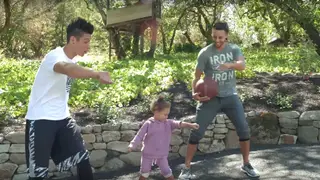 Fitting into the NBA isn't easy, but Jeremy Lin is going to keep trying anyway.
In his new video, "How to Fit in the NBA," the Charlotte Hornets point guard goes around getting advice — not to mention insults — from fellow players around the league on everything from communication to fashion, dancing and music.
The highlight of the entire clip, though, comes when NBA MVP Stephen Curry and his adorable daughter Riley teach Lin how to Whip/Nae Nae.

Remember, Riley was the toddler who stole the spotlight from her superstar dad twice during his postgame press conferences last season, once even singing the words to Big Sean's "Blessed."
And the three-year-old was definitely leading the way in schooling Lin to the popular dance.
In addition to the Currys, Lin's former Houston Rockets' teammate Dwight Howard also shows him some dance moves via Facetime, while Phoenix Suns center Tyson Chandler assists with some fashion tips.
Let's hope this helps, Jeremy.
BET Sports News — Get the latest news and information about African-Americans in sports, including weekly recaps, celebrity news and photos of your favorite Black athletes.
(Photo: Jeremy Lin via YouTube)