Nike Air Max Day: 7 of the Most Classic Air Max References in Hip-Hop
Emcees like Gucci Mane and The Game have mentioned the popular sneaker in over a dozen records combined.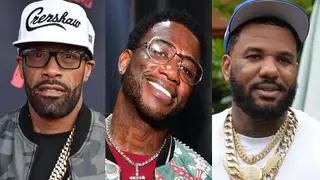 Nike debuted its "Air Max 1" trainer in 1987, introducing a new technology--an air-cushioned bubble—that would not only provide comfort but would ultimately stand the test of time. The footwear shifted the culture, and hip-hop rarely missed its opportunity to pay homage.
That same year, legendary Bronx emcee KRS-One is noted as being one of the first rappers to reference Nike on Boogie Down Productions' "Dope Beat" when the legendary emcee made his footwear stance clear, stating: "I represent my DJ Scott LaRock, D-Nice, the beat box. I only wear Nike's, not Adidas or Reeboks." Many rappers followed suit many years later, including Newark native Redman shouted out the sneaker directly in his popular record, "I'll Bee Dat."
Even in recent years, emcees globally, some of whom weren't even born when the sneaker was released, have mentioned the famous shoe from Brooklyn native Jay Critch, who rapped about it in a track called "Yoshi" to UK artist Big H who pays tribute with his single "Nike Air Max" featuring President T and Bossman Birdie. The song celebrates the legacy of the influential footwear and is dubbed a "Nike Air anthem."
Since the inaugural celebration on March 24, 2014, exactly 27 years after the Air Max 1 launch, Nike and sneakerheads have honored the iconic silhouette and all its contributors. This year's festivities fall on Sunday (March 26th,) but before then, check out this quick list of some of the most classic references to the iconic sneaker in hip-hop.
Redman – 'I'll Bee Dat'

Redman was one of the first emcees to directly reference the popular shoe in his smash single, "I'll Bee Dat," featured on his 1998 album Doc's Da Name 2000.

Lyric: Get you steppin in your Air Max BOUNCE! / You cockin it back but where it at? BOUNCE!

Gucci Mane – 'Bricks' featuring Yo Gotti and OJ Da Juiceman

East Atlanta rap legend Gucci Mane is known for often making references to the sneaker in several of his tracks over the years, including his 2009 record "Bricks," which appeared on his album The State vs. Radric Davis. Rapper Dom Kennedy sampled Gucci's Air Max line for a chorus in a later song titled "Hard Work."

Lyric: Zone-6 polar bears never see Summer / It's winter all year cause the birds fly under / 95 Air Max cause I'm a dope runner / I'm ballin' like an athlete but got no jumper

Jeezy – 'All There' featuring Bankroll Fresh

Atlanta-based rapper Jeezy has often expressed his love for Nike footwear throughout several of his songs. So it's no surprise that when he tapped the late Bankroll Fresh to guest appear on the 2016 record, "All There," he too shouted out the prominent show.

Lyric: (Bankroll Fresh)"Dope boy 95 Air Max on / Came from up the road boy you know we tax "

Big L — 'I Don't Understand It'

In his 1995 single "I Don't Understand," the late Big L highlights the defining feature of the Nike Air Max that made it one of Nike's holy grails.  The shoe's wildly recognizable midsole features a flexible urethane pouch filled with pressurized gas, giving your feet that extra needed cushion.

Lyric: "I got more soul than Nike Airs, givin MC's nightmares."

Nas – 'Oochie Wally Wally (Remix)' featuring Bravehearts

In the remix for his hit single "Oochie Wally Wally," Nas raps that the lady he's checking for also has to sport the dope threads, including Nike Airs. The track is featured on Queens native's 2000 project Nas & Ill Will Presents: Queensbridge the Album

Lyric: "Little cutie rat/ walking by with the doobie wrap / tight blue jeans Air Max / small Gucci bag."

Ghostface Killah – 'Apollo Kids' featuring Raekwon

In this classic Ghostface Killah record, "Apollo Kids," featuring rap pioneer Raekwon, the Wu-Tang Clan member bragged about finding a pair of "phat yellow Air Max" at a highly discounted price; sorry, resellers.

Lyric: A pair of bright phat yellow Air Max / Hit the racks snatch 'em up son twenty dollars off no tax

The Game - 'Hate It or Love It'

According to a report from Genius, West coast rapper The Game and Atlanta based emcee Gucci Mane hold the record for having referenced the Air Max show the most out of any rapper. The Game makes one of his many shoutouts  in a 2005 track titled 'Hate It Or Love It' from his second studio album, The Documentary. Other mentions could be found in songs such as "Don't Trip" featuring musical icons Ice Cube, Dr. Dre and will.i.am.

Lyric: That's ten years, I told Pooh in ninety-five / I'll kill you if you try me for my Air Max 95s