Biggie Smalls Is Still The Illest
As the 50th anniversary of hip-hop approaches, we take a look back at Christopher Wallace's impact.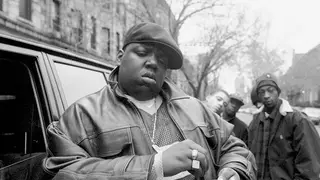 The question of who holds the title of greatest emcee in hip-hop remains a fiercely debated topic among fans. But amidst the ongoing discourse, there is one undeniable truth: Notorious B.I.G. is widely regarded as a legend in the game.
As the hip-hop community gears up to commemorate the genre's 50th anniversary on August 11th, the discussions around the greatest emcees of all time have taken on a new level of significance. And in these conversations, the legacy of Notorious B.I.G., born Christopher Wallace, looms larger than ever before.
While acts like Melly Mel, Big Daddy Kane, and other pioneers of hip-hop are often shoe-ins for these types of lists, Biggie is almost always a lock for the top 10.
There is no denying the sheer brilliance of Notorious B.I.G., who remains a shining example of what it truly means to be a master of the art of rap. With only two solo studio albums under his belt, he has managed to achieve universal recognition as one of the greatest to ever do it.
From his ability to seamlessly blend gangsta rap with pop sensibilities to his impeccable flow and an unparalleled sense of fashion, Biggie's impact on the genre is nothing short of extraordinary. And as we pause to remember him on the anniversary of his untimely passing, we can't help but marvel at the incredible legacy he has left behind.
It's a feat in itself not only because gangsta rap – which trap and drill are derivatives of – has proliferated modern hip-hop but because even with its oversaturated sound, only a couple have come close to duplicating Biggie's chart success.
Notorious B.I.G. possessed a rare gift - the ability to weave together words in such a way that they transported listeners to another world, one where the gritty realities of his impoverished upbringing were brought vividly to life through his acute storytelling.
From the hauntingly raw lyrics of "Gimme the Loot" to the hypnotic rhythm of "One More Chance," Biggie had an unmatched ability to draw listeners in and make them feel as though they were living his experiences right alongside him. His flow was impeccable, his sense of pocket second to none, and his lyrics so powerful that it was impossible to remain unaffected by their depth and authenticity.
Biggie's rhyming ability not only helped him achieve worldwide appeal without changing his subject matter but is, for many, single-handedly why no rapper is better.
Robert Christgau, a behemoth in the music critic world who was the former Village Voice chief music critic and senior editor, does a good job explaining the Bronx native's penchant for putting words together.
In an interview with Tidal covering the 25th anniversary of Biggie's 1994 debut album, Ready to Die, Christgau referred to the rapper's delivery as "skillful and seemingly offhand" and said he had a rap style that was "deeply and subtly musical."
Christgau's assessment encapsulates what separates B.I.G. from the rest in a nutshell: no one has made rapping that well sound that good.
"Juicy" — a sellout record with crossover commercial success — is a perfect example of this.
Although it has arguably the most recognizable bar in hip-hop, "It was all a dream, I used to read Word Up magazine", the song still offers bars like "now honeys play me close like butter play toast," that cater to the wordplay enthusiast.
And while Biggie's flow may be hard to recreate, his style can still be seen today. "Ten Crack Commandments", from his posthumous, sophomore album Life After Death, for example, is still being reimagined by rappers today.
But Biggie's influence on hip-hop went far beyond what he was able to do behind a booth. Some would argue the emcee is the reason rappers today are flashy and place heavy emphasis on what they wear.
Despite being "Black and ugly as ever," Biggie stayed "Coogi down to the socks," with his "rings and watch filled with rocks." It's no coincidence that after introducing the Australian knitwear to public consciousness, bright and bold sweaters flooded the streets.
Not to mention, it wasn't The Migos who ushered the high-end fashion label Versace into hip-hop. Biggie and his Versace Medusa-emblem sunglasses in the 1995  "One More Chance" video and constantly name-dropping the brand in songs made it a must-have commodity in the streets.
Biggie's name comes up in GOAT talks because he covered so much ground in such little time, and as debates rage about the greatest rapper ever, he will always be cemented as one.