2023 NAACP Image Awards: See Why Queen Latifah Still Reigns in Hip-Hop
The musical legend served as our dazzling host at the 54th Annual NAACP Image Awards live in Pasadena, Ca.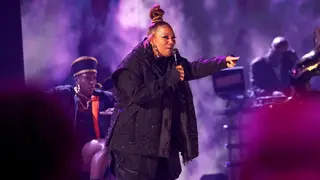 The 54th Annual NAACP Image Awards hosted by Queen Latifah marked yet another fantastic celebration of some of the biggest and brightest figures across various industries. Although the party may be over, we're still highlighting some of our Hollywood favorites for weeks to come, including this year's host.
Latifah is a trailblazer in her own lane. Following a successful rap career, she transitioned to television and film, where her talents continued to impress viewers. But, sticking to the musical aspect, in honor of this year's NAACP Image Awards, check out three tracks that prove why Latifah rightfully holds the title of "Godmother of Hip Hop."
"U.N.I.T.Y."

Featured on her third studio album, Black Reign, "U.N.I.T.Y."  helped bring awareness to the troubling issues women faced in society and by their peers in the hip-hop community. The Grammy Award-winning song samples "Message from the Inner City" by the jazz band the Crusaders.

"Just Another Day"

The multitalented entertainer wrote "Just Another Day" with Apache. The record peaked at no. 54 on the Billboard Hot 100.

"Ladies First" featuring Monie Love

Queen Latifah delivered one of hip hop's earlier female empowerment singles with the release of "Ladies First" featuring fellow emcee Monie Love in 1989.