Jussie Smollett's New Video For 'Freedom' Is A Beautiful Ode To Black Love
Tika Sumpter and Cynthia Erivo star in the gorgeous clip.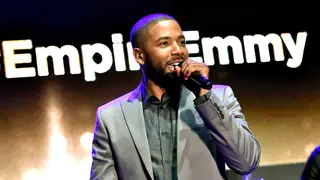 Jussie Smollett may star as a chart topping musician on the Fox series Empire, but now he's looking capture similar success in his personal career. The R&B crooner recently debuted the visuals for his new single, "Freedom." 
Lifted off his Smollett's forthcoming debut album "Freedom," follows actors Tika Sumpter and Cynthia Erivo living their best lives as a lesbian couple.
Gushing on the video's inspiration, Smollett revealed, "This video is about love. I wanted to show two people doing the everyday things that every single couple does. I see nothing but beauty through the eyes of these characters we've created. I hope everyone else does as well. Love is freedom. Freedom is love."
Jussie Smollett's Sum of My Music is set to hit stores on March 2.
Check out the new video below: