Kim Kardashian West Defends Her Cornrows On The Red Carpet, Says North West Asked For Them
Does she get a pass, y'all?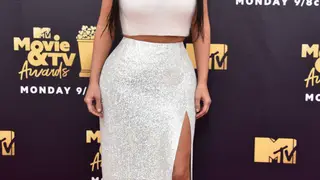 Time and again Kim Kardashian has been in hot water, accused of cultural appropriation. 
Everyone was furious. "When are you going to give black women credit for the braids inspiration?" one commenter shared. 
But there is a method behind the reality star's madness. According to Mrs. Kardashian-West, she is wearing her braids in support of her daughter, North, who you may know is also the daughter of rapper and designer Kanye West. 
Recently the beauty mogul talked with Bustle about what made her wear the iconic braids originated from the Fulani tribe of Africa. "I actually did that look because North said she wanted braids and asked if I would do them with her. So we braided her hair and then we braided my hair," the mother of three shared.
After hearing her explanation, we think it's very sweet that she wanted to support her bi-racial daughter, who is known for her adorable curly locks. 
What do you think of Kim's explanation for wearing Fulani braids? Does she get a pass?