Xscape And SWV Unite For New Limited Series
The Bravo series pulls back the curtain on the popular R&B group.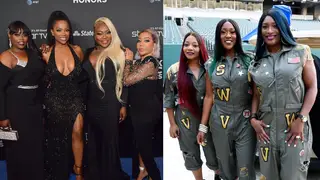 On Tuesday (January 31), Bravo revealed a first look at its upcoming series SWV & Xscape: The Queens of R&B.
The six-episode limited series, which is slated to premiere March 5, will follow '90s girl groups Xscape and SWV as they come together and gear up for a special one-night-only concert event.
According to a press release, the two acts will "take viewers on the ultimate fan experience to explore the inner workings of putting on a live concert performance and expose the discord and complex dynamics of sisterhood within singing groups."
An explosive video preview of The Queens of R&B series has also been released and shows rising tensions among the seven women as they try to navigate who will be considered the "headliners" of the night. Could old feuds be making their way back to the forefront?
Kandi Burruss took to her social media to react to the news and says she's not "ready" to see how the whole thing unfolds on television.
The cast includes multiplatinum R&B trio SWV (Sisters With Voices) featuring Cheryl "Coko" Gamble, Tamara "Taj" Johnson, and Leanne "Lelee" Lyons as well as legendary R&B quartet XSCAPE featuring Burruss, Tameka "Tiny" Harris, and siblings LaTocha Bivens and Tamika Scott.
SWV & Xscape: The Queens of R&B premieres March 5 at 9:30 p.m. EST on Bravo.