Father Arrested For Fleeing Car Accident That Killed His 2-Year-Old Son After He Shoplifted $228 In Walmart Goods
Christopher Kuhn faces multiple charges, including homicide.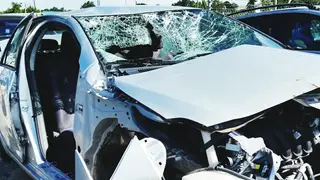 A two-year-old boy is dead and a father is in jail after an attempted shoplifting resulted in a fatal car accident in Tullytown, Pennsylvania.
After Christopher Kuhn, 27, stole $228 worth of merchandise from Walmart on Tuesday, he and his son of the same name fled in a Jeep, reported CBS Philadelphia.
According to investigators, Kuhn ran a red light and then t-boned a car, which then crashed into a third vehicle. As a result of the crash, little Christopher was ejected from the car onto the roadway. After the crash, the elder Kuhn stopped for a moment to look at his son and then took off running, reported the Trentonian. A responding officer ran after Kuhn and arrested him after a brief chase. The toddler was attended to by others at the scene, the arrest affidavit said.
Little Chris was taken to Lower Bucks Hospital, where he was pronounced dead. No one else suffered serious injuries.
According to the Bucks County District's Attorney's Office, police did not arrive on the scene until Kuhn was in his Jeep and driving away.
A witness said Kuhn used his son as a shield as he ran to his car, away from pursuant security guards. The child had climbed into the rear driver's side of the Jeep, yet was not properly secured in a child safety seat.
Authorities say Kuhn's New Jersey driver's license was suspended.
Kuhn is being charged with third-degree murder, homicide by vehicle, accidents involving death or injury while not properly licensed, retail theft, endangering the welfare of children, recklessly endangering another person, reckless driving, driving on a suspended license and running a red light.
District Attorney Matthew D. Weintraub said in a statement to the Trentonian that police had no role in the fatal crash.
"The sole responsibility for the loss of this innocent life rests with Christopher Kuhn," Weintraub said. "What we know to be true, and what we intend to prove in court, is that the death of his young son is solely the result of his own illegal actions."
Kuhn is currently being held on $5 million cash bail.