Ride or Die: Are Kylie and Tyga Back Together?
An eyewitness managed to get the receipts.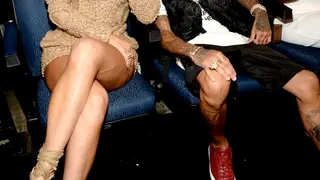 Ah, young love.
Just a week after Kylie Jenner reportedly threatened to file a restraining order against her ex Tyga, it looks like the exes may be giving their relationship another chance. A fan of the couple spotted them riding around together in a red Lambo, and even managed to get the receipts.
Somebody sent the gossip blog TeaTenders the pic below of Kylie and Tyga rolling around her hometown of Calabasas together. Though they've both been linked with new significant others lately — Kylie has reportedly been dating Drake's protégé PARTYNEXTDOOR, while Tyga has been seen with lingerie model Demi Rose Mawby — looks like they just can't quit each other:
This wouldn't be the first time these two called off a breakup. Let's wait and see if KyGa are indeed reunited!
Of course, this would be bad news for PND. Get the deets on their budding romance with BET Breaks, above.