Hip-Hop Blasts H&M For Its Racist Hoodie Campaign
Diddy, Snoop Dogg, T.I., Chris Brown and more are outraged.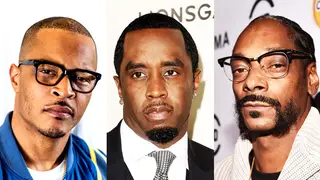 The hip-hop community is outraged after H&M debuted a racist hoodie campaign which depicted a young Black boy wearing a sweatshirt with the phrase "Coolest Monkey in the Jungle" emblazoned on the front.
At this point, it should be common knowledge that it's not OK to dehumanize African-Americans and refer to them as monkeys, but clearly someone on the company's design and styling team dropped the ball. H&M issued a statement, apologizing for the "mistake," but many people are still questioning the retail company's judgment.
Since the campaign, a number of celebrities have expressed their distaste. The Weeknd, who has had many partnerships with the store, announced on Twitter that he would be cutting all business ties with the company. Diddy, T.I., Snoop Dogg, Chris Brown have also released statements regarding the matter, as well as shared an updated version of the hoodie, featuring a crown in place of the racist graphics.
"Put some respect on it!! When you look at us make sure you see royalty and super natural God sent glory!! Anything else is disrespectful," Diddy wrote on Twitter.
Check out all the reactions below.
Snoop Dogg

Diddy

T.I.

Chris Brown

The Weeknd

YG

Azealia Banks

Pusha T

Nipsey Hussle

Plies