You Will Never Be Able To Send Beyoncé An Email
Ed Sheeran reveals her cyber security strategy.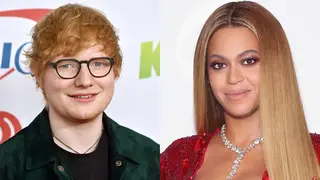 I mean, her music, personality, and aura all suggest this, but her approachability may make her more prestigious than actual royalty.
During a recent interview with Entertainment Tonight, Bey's "Perfect" collaboration partner Ed Sheeran revealed just how hard it is to get into contact with the music superstar.
"I have an email address that I email [to get in touch with Beyoncé] that actually changes every week," Sheeran told the media outlet. "She's very good at…"
"Hiding?" Keltie Knight, who was interviewing him, suggested.
"Yeah," Sheeran replied. "It's kind of what I inspire to be, I think."
Also during the interview, Ed Sheeran talked about the pair's "Perfect" single. According to him, Beyonce nailed the song in just one take (of course).
"The original version of 'Perfect' was just an acoustic guitar and she rung me up and was like, 'I don't know how you feel about this but I've taken all the instruments off it and it's just gonna be acoustic guitar,' and I was like, 'Ah that's great, because it used to be that! '" he said. "Then when we got in together, it wasn't so much notes, it was very much like a back and forth thing, like, 'What'd you think of this?' Or 'What do you think of this?' and [we were] probably in the studio for four hours."
Ugh, we can only strive to be as holy as the queen.