T.J. Holmes Signs Multi-Platform Talent Deal With BET Networks
Former CNN anchor T.J. Holmes will host a new show on BET, as well as contribute content to BET.com, in hopes of bringing what the network calls the "most important and interesting" stories to the BET audience.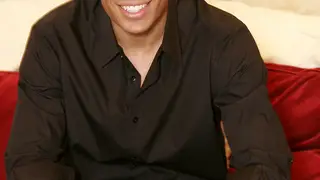 BET Networks has inked a multi-platform talent agreement with award-winning journalist and television personality T.J. Holmes, BET announced Wednesday. The deal with Holmes includes a new show on BET, as well as content on BET.com in which he can bring his many talents to what the company regards as "the most important and interesting stories" for the BET audience.
"We are simply ecstatic to have T.J. Holmes coming to our fold. He's been an outstanding news anchor and we look forward to working with him in a variety of new ways on BET," said Stephen G. Hill, President of Music Programming and Specials at BET Networks. "It's now upon us to develop vehicles that capture his intelligence, curiosity about the world, warmth, humor and compassion. It's a challenge that we are happy to have."
An award-winning journalist and respected television personality within the African-American community, Holmes was formerly a news anchor for various CNN programs and has anchored numerous major breaking news stories and human interest pieces ranging from the devastating tornadoes across the Midwest and Southeast to the Gulf Oil Spill in 2010, to Saddam Hussein's execution in 2006.
Holmes came to CNN from NBC11 in the San Francisco Bay Area. While with NBC, he covered the 2004 Olympics, the first Summer Games held since the September 11th terrorist attacks. Before that, Holmes served as a weekend anchor and reporter for KTHV-TV in Little Rock, Ark. He began his career at KSNF-TV in Joplin, Missouri, and contributed to CNN's 2010 coverage of the Gulf Oil Spill that garnered a Peabody Award. In 2007, he was honored with the Young Alumni Award by the University of Arkansas.  
"We look forward to weaving T.J.'s mixture of credibility and charisma into our fabric," Hill said.
BET National News - Keep up to date with breaking news stories from around the nation, including headlines from the hip hop and entertainment world.