Please, AMC, Don't F**k Up This TV Series About Black Lives Matter
The movement is coming to the small screen.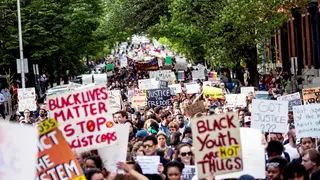 Black Lives Matter is about to go to primetime. The movement, which has fought against police brutality and been vilified in the media, will be accessible to you on a major network, not just news pundits arguing.

Black Lives Matter was sparked after the tragic killing of Michael Brown on August 9, 2014. He was an unarmed 18-year-old who was shot and killed by a police officer in Ferguson, Missouri. His dead body was left on the street for four hours. Over three years later, Black Lives Matter has become a national conversation and a force in politics.
Now, according to Deadline.com, AMC will develop a scripted series about Black Lives Matter based on Wesley Lowrey's book, They Can't Kill Us All: Ferguson, Baltimore, and a New Era in America's Racial Justice. The script will be written by AMC writer LaToya Morgan. Deadline.com reports, "the potential series also will reflect current events and race relations through the stories and voices of fictional characters. Morgan will executive produce with Makeready founder and CEO Weston and creative heads Pam Abdy and Scott Nemes."
There is no word on how some of the founders of Black Lives Matter feel about the movement becoming a dramatic series. But hopefully the series will be handled with grace and care. If so, it could be groundbreaking. We're encouraged by the fact that the writers — both of the source material and the show — are Black. But after the Confederate backlash that HBO recently faced, all networks would be wise to take note that exploring Black pain on television is a sensitive issue and there's very little benefit of the doubt to go around:
Black stories deserve to be told. Just don't f**k it up with network politics, please.

Get an in-depth perspective of the Black Lives Matter movement in the video above.