Video Shows Children Dancing In Racist Obama Mask At Michigan Protest
One child was wearing a darkened Obama caricature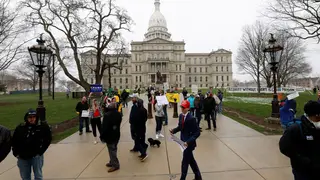 A Twitter video has surfaced capturing two children dancing at a protest in Lansing, Michigan, while wearing masks, one of which appear to be a darkened caricature of former President Barack Obama. The other donning a Donald Trump mask.
As a crowd standing in the rain laughs at them, a song that berates the government for "taking" from people plays while the children prance around. 
It is unclear who the children are, but the display is part of a series of gun-toting protests called "Reopen Michigan" aimed at the state's Democratic governor who has come under attack from right-wing extremists as well as Trump for trying to mitigate the spread of coronavirus in her state. 
The state's capital has been the scene of intense protests as Gov. Gretchen Whitmer resists demands for the state to reopen businesses as the coronavirus continues its spread. 
On Thursday, groups of demonstrators stormed the capital building, some of them brandishing semi-automatic rifles, demanding the restrictions be lifted. But the governor responded with new executive orders mandating theaters, restaurants, bars, casinos, gyms and other businesses remain closed until May 28, according to the Lansing State Journal. She also declared Michigan under a state of emergency.
Trump defended the protesters, sending out a tweet calling them "very good people" and saying Whitmer should "give a litte."
The comment was not unlike those he made in 2018 when a white supremacist drove his car into a crowd in Charlottesville, Virginia, killing a young woman. After that deadly incident, Trump said there were "very fine people" on both sides.
As of April 30, Michigan reportedly has a total of 41,379 cases of coronavirus with 3,789 deaths, according to the state government. The disease is impacting African American greatly in Detroit, which has logged 9,057 cases and 1,035 deaths.