Sony Exec Blacklists Denzel Washington in Leaked Email
Plus, Tyler Perry and John Singleton come to studio chief's defense.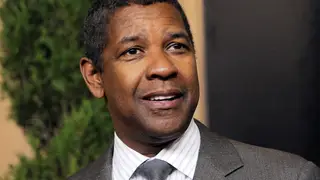 The hits keep coming for Sony. The release of The Interview is officially canceled due to terrorist threats, but now Denzel Washington is bad for business, according to leaked emails between executives at Sony Pictures. According to correspondence between an unnamed producer and Sony chairman Michael Lynton, the two-time Oscar winner should not be cast in big budget films that will play overseas because the "racist" international audience will not accept a Black actor in a leading role.
The e-mails, which included advice to refrain from casting Washington in films that depended upon big overseas box office numbers, were sent soon after Sony released Washington's latest film The Equalizer.
The producer who sent the e-mail said he or she hoped the incredible statement wasn't "inappropriate or provocative." 
"No, I am not saying The Equalizer should not have been made or that African American actors should not have been used (I personally think Denzel is the best actor of his generation)," the producer wrote. "Casting him is saying we're ok with a double if the picture works," the producer wrote, using a baseball analogy. "He's reliable at the domestic [box office], safe, but has not had a huge success in years."
The Equalizer grossed $191 million at theaters worldwide, with 47% of the ticket sales coming from outside of the United States — a figure, the producer says, would have been higher were it not for Washington's race.
"I believe that the international motion picture audience is racist — in general pictures with an African American lead don't play well overseas," the producer wrote.
Despite the seemingly racist tone of emails between executives, producers and Sony Pictures co-chairman Amy Pascal, stars have been stepping up to vocalize their support of the embattled studio chief. Among those who Pascal can count on in her corner are Tyler Perry and John Singleton. TMZ reports that the Hollywood bigwigs throwing their support behind Pascal have gone out of their way to say they do not think she is a racist.
Click here to win a trip to the Super Bowl Gospel Celebration in Phoenix, AZ, plus 4 tickets to the Big Game. 
BET.com is your #1 source for Black celebrity news, photos, exclusive videos and all the latest in the world of hip hop and R&B music.
Click here to subscribe to our newsletter.

 (Photo: Chris Pizzello/Invision/AP, File)