Brandon T. Jackson Admits His Career Went Downhill 'When I Put On That Dress' In 'Big Momma's House'
"I believe it was cursed because nothing went right since then."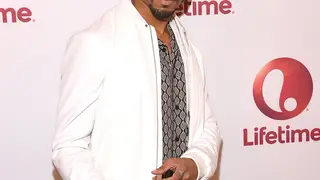 Brandon T. Jackson has been working steadily in Hollywood for years, but the actor claims his career took a nosedive following his appearance in the 2011 film Big Mommas: Like Father, Like Son.
During a recent interview with Comedy Hype, Jackson claimed that the "negative" turning point came as a result of him dressing as a woman in the film, in which he starred in alongside Martin Lawrence.
"Everything went wrong when I put on that dress," he said. "It was a negative changing point, to be honest... My personal life was in shambles at that time. It was horrible."
He also boldly admits that he did not find the film to be very good to begin with.
"First of all, no offense, the movie wasn't that good, to me," he said. "It wasn't a prolific film. I sound so mean, like, 'You should be grateful for it,' but I'm real. It wasn't the best movie. It was an entertaining film."
Continuing with this unapologetic tone, he added that he "did it purely for the money and to work with Martin Lawrence."
While expounding on his regrets of donning the dress later on in the interview, he said he felt "the whole dress bit was already overdone," and stressed that "you couldn't pay the 'awakened Brandon' a trillion dollars" to repeat the decision.
Watch the actor keep it 100, below:
Jackson played Lawrence's stepson, Trent Pierce, in the film while the comedy legend reprised his role as Malcolm Turner, an FBI agent who goes undercover as an elderly woman. The movie went on to gross almost $90 million worldwide. Despite its success, Jackson is adamant that he has had nothing but bad luck in the eight years since its release.
"I believe it was cursed because nothing went right since then," he said.