Damn, Girl: Find Out the Shady Way Naomi Campbell Stole Another Model's Boyfriend
The supermodel vixen will stop at nothing to get what she wants.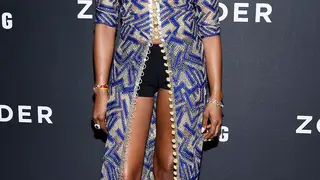 Naomi Campbell is a beast. A recent Page Six exposé about the weird and manipulative world of celebrity gift-giving revealed a juicy tidbit about the supermodel — that she frequently used expensive Hermès Birkin bags to lure men into bed and throw their girlfriends off the scent.
The bombshell comes from a relatively credible source, too: her former assistant Rebecca White. "Naomi was a big fan of sending Birkin bags out of the blue," says White, who was employed by Campbell from 2000 to 2005. "If it was someone she wanted to sleep with, she would send one to [the guy's] mother. I remember sending another model one because Naomi had slept with her boyfriend... [Naomi] said, 'Send something to make sure she thinks I'm her friend.'  "
Birkin bags, in case you don't know, start at about $10,000. That's a lot of money for some booty. But it's true that Campbell has a reputation — accurate or not, we can't say for sure — of stealing other people's boyfriends. She most recently was credited with the breakup of Idris Elba and his baby's mother Naiyana Garth after Campbell was spotted with the actor at a nightclub.
Hope Garth at least got a Birkin out of it.