Why R. Kelly Is Suddenly In A North Carolina Prison
Officials recently relocated the singer from a Chicago correctional facility without advance notice to his lawyer.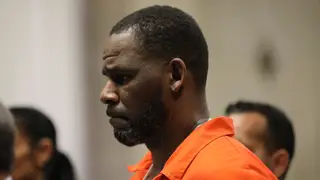 R&B artist R. Kelly was transferred April 19 from Metropolitan Correctional Center (MCC) in Chicago to the Federal Correctional Institute (FCI) in Butner, N.C. where the embattled singer will continue to serve his decades-long sentences on sex crime convictions, the Associated Press reports.
Federal Bureau of Prisons spokesperson Benjamin O'Cone told the AP that the agency doesn't disclose the reasons for inmate transfers due to privacy, safety and security reasons.
But Kelly's lawyer, Jennifer Bonjean, said the transfer to the medium-security facility was expected, though she did not receive any advanced notice, Chicago station WLS reports.
"He continues to suffer from health issues caused by medical negligence at the MCC Chicago. We are hopeful that Butner will ensure that his medical needs are met. In the meantime, we have filed his brief in the Second Circuit which challenges his unjust conviction and 30 year sentence. Many fights ahead of us!" Bonjean said in a statement, according to WLS.
In March, Bonjean alleged that the Bureau of Prisons had neglected Kelly's health inside Chicago's MCC facility. She said the singer recently had surgery on his Achilles tendon after discovering that he had blood clots.
Kelly, 56, is now one of 771 inmates serving time at the Butner facility, North Carolina station WTVD reports. Federal prison consultant Chris Zoukis told WTVD that Butner is a sought-after facility because of its medical center.
"One of the nice things about the Butner complexes is that they tend to be pretty soft facilities," Zoukis added. "Every institution has a different kind of cultural level. But, Butner is actually a pretty good place because they tend to have a low level of violence. And, sex offenders, informants, and LGBTQ inmates can stay there as opposed to some institutions where they would actually be attacked."
In February, a federal judge sentenced Kelly to a 20-year prison term for his Chicago child pornography and enticement of minors for sex conviction. He will serve all but one of those years simultaneously with a separate 30-year sentence on racketeering and sex trafficking convictions in New York.