Pacman Jones Rips Helmet Off Rookie, Slams Head
Bengals cornerback's aggressive tactics went undetected by refs.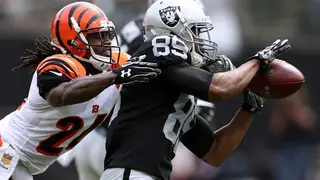 Adam "Pacman" Jones chose quite the way to welcome rookie wide receiver Amari Cooper to the NFL on Sunday.
The Cincinnati Bengals cornerback ripped off the Oakland Raiders rookie's helmet before slamming his head onto the helmet during the second quarter of what turned out to be a Bengals' 33-13 win. The aggressive tactics went undetected by officials or it might have led to Jones being ejected.

When asked after the game if he anticipated a fine or suspension from the NFL, Jones told ESPN, "No."
However, others aren't as sure. The league's ex-vice president of officiating and current rules analyst for Fox Mike Pereira said Jones should expect a substantial fine.

For what it's worth, Jones and Cooper just attribute the aggression to the physicality of football.
"Whatever you saw happen, that's what happened," Jones said. "I'm just here to play football. I don't back down from anybody and I'm not out here trying to start anything. I'm just out here playing football."

Cooper, who is expected to be a star wide receiver for the Raiders, took the roughness in stride.
"I mean, it's football," Cooper said. "It's a physical game so you kind of expect it."
Bengals coach Marvin Lewis wasn't pleased with Jones's actions, though.
"We have got to be better than that," Lewis said. "We have to walk away. We're supposed to make plays. This is NFL football. You're supposed to make plays and walk away to the back of the huddle. We can't have the penalties we had in those situations because those things can change a game and they can really hurt you. We've got to do a better job."
BET Sports News — Get the latest news and information about African-Americans in sports, including weekly recaps, celebrity news and photos of your favorite Black athletes.

(Photo: Ezra Shaw/Getty Images)