Heartbroken Family Search For Missing CDC Employee Who Mysteriously Disappeared
Timothy Cunningham's brother fears something terrible may have happened to him.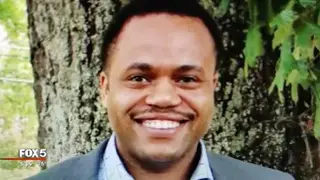 A 35-year-old alumni of Morehouse and Harvard suddenly vanished on Monday, leaving his family in a desperate search for answers. 
Timothy Cunningham, who is an epidemiologist at the Centers for Disease Control in Chamblee, Georgia, left behind many valued goods in his home as well as his dog, Bo, reported Fox 5 Atlanta.
Cunningham's brother, Anterio Cunningham, does not want to assume the worst, yet he is worried something horrible has happened for him to leave his family and prized job with no notice.  
"My first mind is that something has happened, especially considering the length of time he's been gone. Not having his phone, leaving his dog, Bo, alone, he just wouldn't voluntarily check out like that," Anterio said told Fox 5.
According to his family, Cunningham was just promoted to the position of Commander under the U.S. Health Service Corps.
"Tim is the consummate professional. He loves his job. He wouldn't just cast it aside. He's worked hard to get where he is," Anterio added.
Timothy Cunningham was last seen Monday, February 12, at work. While on the job, he told his supervisors he needed to leave early because he was feeling sick. According to his family, he left his cell phone, his wallet, and his SUV at home. Atlanta Police are holding on to his cell phone as part of their missing person's investigation.
Cunningham's family said they have an unspoken rule about checking in with each other, so his lack of contact is concerning, reported 11Alive.
"He didn't respond to any calls, and that in itself had us wondering, "Is he OK?'" Cunningham's father asked 11Alive.
Timothy Cunningham is described as about 5-foot-11 and 230 pounds with black hair and brown eyes. Anyone with information on his location is asked to call 911 or Atlanta's Adult Missing Persons Unit at 404-546-4235 immediately. Family members believe he could be in his work uniform.