SNAP Goes the Farm Bill
The House rejects a Republican-led farm bill by a vote of 234-195.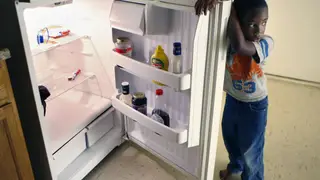 Reps. Barbara Lee (D-California) and Rosa DeLauro (D-Rhode Island) bumped fists. Nearby, a group of their Democratic colleagues grinned and cheered. The reason for this rare expression of joy on the House floor was the farm bill's resounding defeat.
After days of debate and votes on several amendments, the Republican-led legislation failed by 234-195.
The $940 billion measure called for a massive spending reduction for the Supplemental Nutrition Assistance Program, cutting it by $20.5 billion over 10 years. It also would have restricted or limited millions of Americans' much-needed access to food stamps.
"We know the economy hasn't recovered, why would we put out a bill that makes the vulnerable even more vulnerable? It was time for there to be a stand and this was something Democrats couldn't support," said Rep. Yvette Clarke (D-New York).
Congressional Black Caucus chairwoman Rep. Marcia Fudge (D-Ohio) also denounced efforts to make spending cuts on the backs of poor people.
"It's not morally right and it doesn't make economic sense," she said. "Even though I support a lot of issues in the bill, we have to have some balance and there was none in that bill."
Ignoring the fact that his party controls the lower chamber, House Majority Leader Eric Cantor blamed the stinging loss on Minority Leader Nancy Pelosi and top Democrats. They "shamefully chose politics over progress and meaningful reform," the Virginia lawmaker declared.
But according to Rep. Elijah Cummings (D-Maryland), the same can be said of the Republican Party's tea party contingent. Several of them voted against the bill because they thought the proposed cuts weren't deep enough.
Their attitude, Cummings said, is "my way or the highway."
BET Politics - Your source for the latest news, photos and videos illuminating key issues and personalities in African-American political life, plus commentary from some of our liveliest voices. Click here to subscribe to our newsletter. 
(Photo: Commercial Appeal/Landov)