Black Chicago Public Schools Students Benefit More From Restorative Practices, Study Says
Behavior improved after schools implemented this alternative to traditional punishments.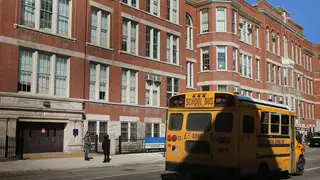 Under a restorative practices approach, students who commit an infraction might participate in a mediation session to discuss a fight in the lunchroom instead of getting suspended or arrested.
The research involved 239 high schools in the Chicago Public Schools (CPS) system over a decade, from the start of the 2008-2009 school year to the end of 2018-2019. CPS began to utilize restorative practices during the 2013-2014 academic year.
This study provides the first causal evidence of restorative practices' effectiveness, the report states. Schools that implemented this alternative approach to discipline saw a dramatic 35 percent reduction in student arrests in school and a 15 percent decline in off-campus arrests. The schools also saw an 18 percent decline in out-of-school suspensions.
According to the Chicago Sun-Times, nearly 34 percent of Black students had at least one out-of-school suspension in 2014, compared to almost 8 percent of Latino, 4 percent of White and 1 percent of Asian students. By the 2021-2022 school year, Black student out-of-school suspension declined to 11 percent.
In 2014, CPS began investing $15 million annually to provide outside coaches who implemented restorative practices at some schools. One of the tools included peace circles in which students speak to individuals they harmed to understand the damage their behavior caused.
The study found that schools with coaches saw significant drops in suspensions. Black male students in schools with this support missed fewer school days and scored higher in math on standardized tests.
"There's a sense that sort of traditional exclusionary disciplinary practices have had a disparate impact on disadvantaged populations, Black students in particular," Benjamin Feigenberg, one of the study's authors, told the Sun-Times. "And so evidence that restorative practices have served to remedy some of that disparate impact, close that gap, is particularly important from an equity perspective."