Spurs Coach Gregg Popovich Slams LaVar Ball As 'Another Fan In The Peanut Gallery With An Opinion'
He also explains why listening to the hoops dad is "meaningless."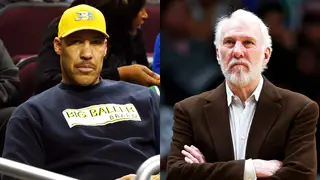 The latest person to be in the San Antonio Spurs' longtime coach's crosshairs? None other than LaVar Ball.
"Whenever anyone says anything about another individual or about the quality of another individual, or what they're doing, I think the first thing to look at is the substance and gravitas of the source that speaks," Popovich told ESPN yesterday about Ball and his criticism of Walton. "Just stopping at that point would tell you that you don't need to listen or go any further. It's just another fan in the peanut gallery with an opinion, which is meaningless."
Pop slamming Ball comes after Golden State Warriors coach Steve Kerr and Dallas Mavericks coach Rick Carlisle did the same in Walton's defense earlier this week.
Do you think Ball, whose son Lonzo is a rookie for the Lakers, is justified in saying that the team's players don't want to play for Walton? Or do you believe that Ball calling Walton out makes him fair game for the kind of stinging ether that Pop, Kerr and Carlisle served up to him this week?
BET Sports News — Get the latest news and information about African-Americans in sports, including weekly recaps, celebrity news and photos of your favorite Black athletes.