10 Best Moments From The 52nd NAACP Image Awards
The show honors the accomplishments of African Americans.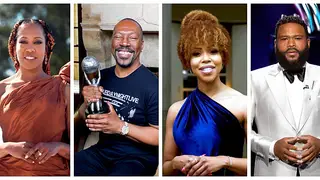 The 52nd NAACP Image Awards was a celebration of everything Black without apology. Every year, the Image Awards recognizes the accomplishments and honors the outstanding performances of people of color in film, television, music, and politics. Honorary awards such as the President's Award, the Entertainer of the Year, and the Hall of Fame Award preserve the significant achievements of African Americans that have pushed Black culture forward and impacted American society. Hosted by the always hilarious Anthony Anderson, this year's virtual award's show was another unforgettable event in the stored history of the premier civil rights organization in the nation.
To commemorate another year of celebrating Black excellence, we at BET.com came up with the 10 Best Moments of The NAACP Image Awards.
10. President Biden and Vice-President Harris Kick The Show Off

Opening the star-studded event, President Joe Biden and Vice- President Kamala Harris stopped in virtually to give greetings to the audience. The President and Vice-President spoke about the historical significance of the NAACP, why fighting for equality and inclusion on all levels is a hallmark of their administration, and the undeniable role that Black American's played in delivering them to the White House. You're welcome!
 

9. Anthony Anderson Hosts For The 8th Consecutive Time

Along with his gigs as the star of black-ish (He's also an executive producer) and hosting the game show To Tell The Truth, Anthony Anderson is almost shoo in to host the Image Awards every year. For the eighth consecutive time, Emmy and Golden Globe-nominated actor brought all the jokes to the Image Awards stage, pulling off hosting duties to a virtual audience while being dapper at the same time.

8. Will Smith and Martin Lawrence Are Working On 'Bad Boys 4'

The dynamic duo of Will Smith and Martin Lawrence took home the award for the Most Outstanding Motion Picture for Bad Boys 3. Detectives Mike Lowrey and Marcus Burnett were back like they never left, tracking down criminals while serving up comedy as only they can.If that wasn't enough, Smith and Lawrence also hinted that the final installment of the Bad Boys series is currently in the works. When the film drops, remember where you heard it first!

7. Maxwell Brings The Classic Neo-Soul Vibes With Don't Ever Wonder

Almost 25 years ago, Maxwell released his classic debut Urban Hang Suite which helped to put neo-soul on the map. Performing one of the signature cuts from the album, "Ascension (Don't Ever Wonder)," Maxwell created a brand new video for his performance, even rocking his retro Afro from his early days. In a Black-and-white visual, Maxwell sang as he strolled down the city streets with big soul energy. He's such a smooth dude!

6. Jazmine Sullivan Slayed Everything Moving

In a virtual blue-light basement set design, Jazmine Sullivan dazzled the audience with a soulful performance "Pick Up Your Feelings." Dressed in a feathery blue mini dress reminiscent of "Old Hollywood Glam," Sullivan was stunning and she knew it! Coming off a year where she dropped her latest, critically-acclaimed album Heaux Tales, Sullivan held everyone in the palm of her hand with her sultry vocals that set the stage on fire! She came, she saw, she slayed.  

5. LeBron James Wins The NAACP President's Award

When he decides to hang up his sneakers, LeBron James will go down as one of the greatest NBA players of all-time. But his true legacy will be the impact that he made off the court for his unflinching commitment to social justice. Recognizing his work, James won the prestigious President's Award. By establishing More Than a Vote, I Promise School, and SpringHill Company, LeBron James has made it very clear that he will never just "shut up and dribble."

4. D-Nice Wins The Entertainer of the Year Award

If there's one person who got us through the uncertainties and cabin fever of sheltering in place during the pandemic, it has to be D-Nice. In March of 2020, while the country was in the throes of a national health crisis, D-Nice began spinning on the "wheels of steel" on Saturday nights. Soon, his viewership grew from a couple hundred to over 1 million at one time! For throwing virtual parties every weekend, keeping us dancing at Club Quarantine, and giving positive vibes, D-Nice definitely earned the title of "Entertainer of the Year."  

3. Stacy Abrams Wins The Social Justice Impact Award

When it comes to politics, Stacy Abrams is a boss. She led a movement that registered over 800,000 voters in Georgia. No one else was more worthy of the Social Justice Impact Award than Ms Abrams. Speaking about Abrams' work, our forever First Lady Michelle Obama said,"She brought a whole lot of people along with her. Thankfully, she's just getting started, and I know she'll make a difference in the years ahead--a beacon of hope, a role model for a younger generation."As Georgia plans to suppress Black voters, the work of Stacy Abrams is just beginning.  

2. Simone Ledward Boseman's Emotional Acceptance Speech On Behalf of Chadwick Boseman.

In his last two roles in Da 5 Blood's and Ma Rainey's Black Bottom, Chadwick Boseman arguably gave his most powerful performances. Both earned him posthumous awards for Best Supporting Actor and Best Actor. Accepting on his behalf, his wife Simone Ledward gave a passionate, emotionally charged speech. She also advocated for cancer awareness. "Thank you, NAACP Image Awards, for always giving him his flowers," she said. "He was an uncommon artist and an even more uncommon person, but the manner that we have lost him is not uncommon at all, not in our community." What a fitting tribute to honor the life and legacy of Chadwick Boseman.

1. Eddie Murphy Becomes An NAACP Hall of Famer

What's better than having your main man present you with the NAACP Hall of Fame Award? Arsenio Hall had the honor of inducting his best friend, the legendary Eddie Murphy as the latest member of the NAACP Hall of Fame. To date, Eddie Murphy's films have grossed over 6 billion dollars at the box office, placing him in the eight spot all-time. The timing couldn't be better as Coming 2 America is the most streamed film of the year so far. After giving the world classics as one of the GOAT's of comedy (Only a GOAT could rock those tight leather outfits), Eddie Murphy is indeed a Hall of Famer.