Rick Ross Allowed to Travel for Work, But There's A Catch
Georgia judge puts restrictions on Rozay.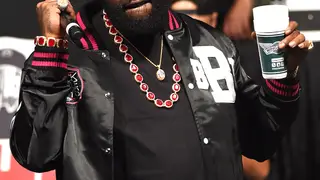 A Georgia judge granted Rick Ross permission to travel for work but there's a catch, reports the Atlanta-Journal Constitution. Ross appeared in a Fayate County courtroom yesterday on kidnapping, battery, and assault charges, but the judge eased up on the rules to his house arrest.  
When traveling for work, Rozay's restrictions include sharing his itinerary with the District Attorney's office, and getting home from local shows within two hours.          
The rapper's attorney argued that the MMG boss was losing money due to the home confinement. Prosecutors opposed the idea, before the judge gave final ruling.
"Feels real good to just go out," Ross said after court. "Everybody that support you, your fans, and everybody that's sending their love."
The 39-year-old, whose birth name is Williams Roberts II, reportedly pistol whipped a worker at his home, who was said to have thrown a party at the mansion while he was out of town. Ross was released on bond last month after spending close to a week in jail.   
BET.com is your #1 source for Black celebrity news, photos, exclusive videos and all the latest in the world of hip hop and R&B music. 
Click here to enter the #LookYourSundayBest contest for a chance to win FREE natural hair-care products.
Watch BET.com's Sound Check: What's My Name? below.
(Photo: Ethan Miller/Getty Images)