Lindsay Lohan Lawsuit Against Pitbull Dismissed
Judge rules in favor of Pitbull in defamation case.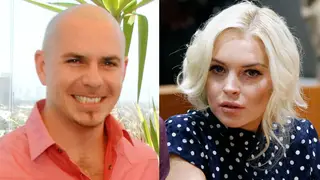 A New York federal judge tossed Lindsay Lohan's case against Pitbull, Ne-Yo and AfroJack over what her lawyer described as disparaging lyrics in the hit song "Give Me Everything."
Lohan filed the suit in August 2011, claiming the line, "I got it locked up like Lindsay Lohan," did "irreparable harm" to the actress. Her lawyer, Stephanie Ovadia, was seeking an injunction that required all defendants to stop broadcasting as well as unspecified damages.
According to TMZ, the judge ruled that the song was protected under the First Amendment as a work of art and shot down Lohan's claims that the track caused her emotional distress.
"Give Me Everything," from Pitbull's 2011 Planet Pit album, was written by Ne-Yo and AfroJack and went on to sell 8.2 million copies worldwide. Lohan's suit cited the song's "wide appeal" and "defamatory statements" and expressed concern about being "associated and identified in connection with defendants."
The suit described the former child star as "a professional actor of good repute and standing in the Screen Actors Guild," and cited New York civil rights laws claiming she should be protected from having her name exploited for commercial purposes.
BET.com is your #1 source for Black celebrity news, photos, exclusive videos and all the latest in the world of hip hop and R&B music.
(Photos from left: Albert L. Ortega/PictureGroup, Mario Anzuoni-Pool/Getty Images)