Meet Channel Tres: The Compton Wunderkind On Collaborations, House Music, and How Afrofuturism Will Impact Music
The West Coast polymath is a unique force of nature whose musical abilities are truly otherworldly.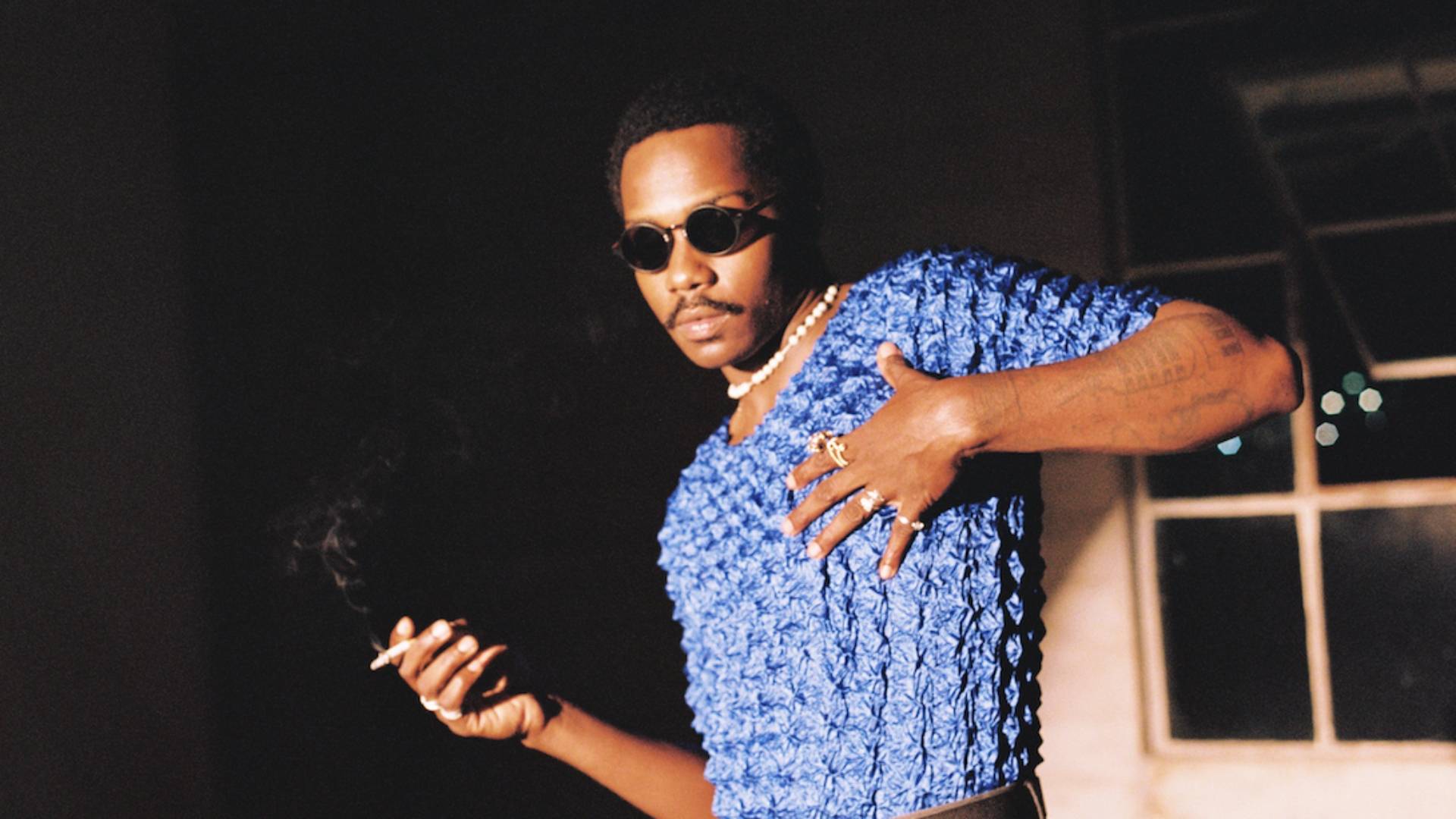 Things are sincerely out of wack and right now, music is responding using uptempo music as a way to escape the craziness. Several of the industry's biggest acts, such as Drake and Beyoncé, have taken the call to action to "Make House and Dance Music Great Again," resulting in the sounds heating up summer and being a balm against the pain of living IRL.

While critics and the Twitterati were quick to say that the genre was primed for a resurgence, those in the know have already been in tune with artists like Azealia Banks, Black Coffee, and Kaytranada, who have built a legacy on fusing house, electronic, and hip hop in otherworldly ways. One thing is for sure, you must also add Channel Tres to the list.
RELATED: 7 Albums That Reignited Our Love For House Music All Night Long

A personal favorite of this writer, the Compton-bred talent has — pun intended — channeled the aforementioned genres, including disco and funk, into his work, while advocating that his style is that of a "genreless artist." In competing with himself, his first three EPs — 2018's Channel Tres, 2019's Black Moses, and 2020's i can't go outside — have made him a trusted and must-hear talent that encourages listeners to have a good time and serves as a valve for those seeking a release.
From "Controller," with its fresh sound and undeniably delicious remix by Detroit house legend Andrés to "fuego," his pandemic-induced collaboration with Tyler, the Creator, introduced audiophiles to his goal of sonically uplifting the Black community and giving us food for thought that also makes us get down wherever we're at.

BET.com was able to get some time with the producer, DJ, and all-around beautiful human being to talk about working with Tyler, the Creator, and Terrace Martin, house music bridging the gap between Black Americans and the diaspora, and how Afrofuturism will impact the future of music.
---
BET.com: You've solidly built your name up out of Compton to work with the likes of Tyler, the Creator, VanJess, Tinashé, Terrace Martin, and more. For those who are just discovering you in this interview, how would you describe the Channel Tres sonic experience? What was a memorable moment for you during Black Music Month?
Channel Tres: I would describe my experience as someone who came from a rough background that used art and creativity to create another world for myself and has developed that over the years into art that other people like. I do shows and make a lot of different types of music. Music was always a way for me to get out of my realities when I was younger, and I just feel like I'm creating that experience for other people through dance music, original productions, and other art pieces I'm working on.
A memorable moment for me was when I was at a studio session and playing some of my new material to my friends. I think I was at Wonderland Studios and everybody, the whole room, just started dancing and losing their minds. It was just an example of the freedom I want my music to give people to just dance and do whatever they want.
BET.com: There is solid chemistry between yourself and Tyler, the Creator, that shows on songs like "fuego" and your remix of "Earfquake." What was the studio session like between you two on the former song? Also, how have you reacted to more conversations happening around house and dance music, and its origins?
Channel Tres: Tyler, [the Creator] — he's just someone who's from L.A., like we grew up in the same area, and we're kind of just weird. I think [that] I can relate to him as someone who takes full control of their creativity. During those sessions, I was going through a very tough time, and doing that project, allowed me to take back charge of my creativity in a lot of ways.

It was [during the] pandemic and we were [all] stuck at the crib, so I just began to make beats every day. I sent them over to him and he liked that particular one. I didn't know that it was going to be on my album at the time, but then I put it on there. It took him about a month to record the verse, but it meant a lot for him to take the time to do that.

When we went to a session and worked on it together, it was inspiring seeing him in the studio, being himself, his attention to detail, and making sure that he wanted to get the verse right for me. At that point in my career, it was really inspiring for me and I hold onto it [dearly.] For the "Earfquake (Remix)," it was dope that he reached out for that.
I think it was his first dance remix on one of his albums, so it was nice to be a part of that. And that album won a Grammy, so that was cool. [About people reacting to conversations surrounding house and dance music] I think it's dope that people want to know what's up. I've been doing dance music since 2014, but [also] I've been into it for a while.

For me, I hope people dive into it and get the same feeling that I got when I first got into house music. And [when] I found out its origins features my people in it, I hope people like it and [that] it's not just a phase that [people] are passing through. [I hope] that they understand that this is Black music, and it's really good.

House music never went anywhere, you know, and the OGs are still doing it!
BET.com: How have you reflected on the reconnecting bridge between African and Black American artists?
Channel Tres: I reflected on it a lot. I was listening to Little Simz's "Point and Kill," which I think that's a great song, and I think it's beautiful because there going to a lot of different places. I've also been into Amapiano music and have been working with some South African producers in the studio. During those sessions, I'm asking questions about their culture, asking about how they make music out there.
I think it's beautiful because, with the history of how we got here to America, there's still trauma there and [with us collaborating more], it's very healing for us to work with people who are from the Motherland. I think it's very helpful when navigating the things that we have to navigate here in the U.S. It's hard for me right now to trace my roots to anywhere but Compton, but it's nice to imagine being from someplace else in Africa or having these connections because you automatically feel at home when you listen to some of this music.
It's beautiful to me, [so when] I'm at certain clubs and you see people doing those traditional dances from across the diaspora, it's awesome for the culture and it is a great moment for us as a people.
BET.com: Black Music Month has been a wonderful experience to behold. From the all-Black orchestra making history at the Hollywood Bowl to Apple Music's curation of original music by today's superstars — what have been some highlight moments for you in 2022?
Channel Tres: Gracing the Coachella stage was a highlight for me in 2022. I'm excited to get back on the road, spread my music, and incorporate more ideas into my [live] show. I am [excited] to just be in a studio and travel.
BET.com: Terrace Martin spoke with BET.com about "Tapped," a song you worked on from the album, Drones. What were the major keys that you learned while in the studio with him? Has any of that been reflected in your latest work, "Acid in My Blood / Ganzfield Experiment"...?
Channel Tres: Those sessions [with Terrace Martin] were beautiful. I learned from him to just slow down and create from an honest place while taking your s**t seriously. I learned from him how to have better attention to detail. I work with him a lot now, and every time I go over there I'm hearing all these crazy stories from the past. From jazz s**t to all of the legends that he's worked with, I love it, and it feels good to be surrounded by this West Coast energy.

It's good for me because these are people I looked up to when I never thought that I would be around them. He's opened a lot of doors for me to do that. And when it comes to my new stuff, being allowed to improvise, which is a big component of jazz music, has enabled me to flow more freely and have a conversation with the music, letting the songs breathe, choose my words wisely, and tap into what I was feeling in those moments.

I have a lot of respect for Terrace, and I really appreciate my time collaborating with him. It's always a good time.
BET.com: With the rise of Afrofuturism in pop culture beginning to take shape — how do you see your growth as the audio landscape continues to change and diversify?
Channel Tres: I'm open. Right now, I'm working on my first LP, and I'm doing a lot of inward work on myself — mentally, physically, and spiritually. I'm excited to see what happens. I'm excited to see what different songs begin to take shape through this new renaissance of Afrofuturism.

I've been studying Afrofuturism for a long time and it's an honor to be a part of it. It's also opening doors for the next generation as well, just like the people opened them up for us before. In being dedicated to the craft, being in the studio, and surrendering to the art, I'm excited to be open and see what happens with me [and this new work.]
---
Kevin L. Clark is a screenwriter and entertainment director for BET Digital, who covers the intersection of music, film, pop culture, and social justice. Follow him on @IAmKevitoClark.