4 Reasons Why We Love Tyler, the Creator
He helped normalize nail polish for men.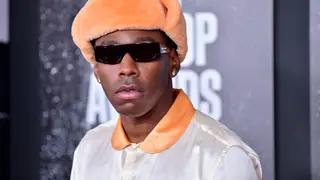 The 2021 BET Hip Hop Awards aired last Tuesday (Oct. 5) and came packed full with high-energy performances, memorable red carpet fashions, and viral moments that will continue to keep us talking well after the event. 
Along with being named the inaugural "Rock The Bells Cultural Influence Award" honoree, Tyler, the Creator took home hardware for "Hip Hop Album of The Year," and "Producer of The Year."
In honor of Tyler's recent Hip Hop Awards success, here are five reasons he's loved.
Coming Out

Tyler, the Creator, who is also openly queer, has been forcing hip hop to reimagine its once homophobic space and has been doing it through both his art and interactions. 

In the song, "I Ain't Got Time," he breaks from a braggadocio's bars to spit: "Next line will have 'em like, 'Whoa' / I've been kissing white boys since 2004." And in "Garden Shed," he talks of hiding in a "garden shed for the garçons" with feelings he is guarding from his friends who couldn't see the signs, before adding: "Truth is, since a youth kid, thought it was a phase."

And you can't overlook his dealings with hip hop gatekeepers and how his approach, albeit uncomfortable, is inevitably tearing down walls for the LGBTQ community. Like when he was rapping about analsex on Funk Master Flex back in 2019 or when the "Call Me If You Get Lost" rapper commented that he had a "crush" on Jadakiss during the Yonkers legend's Verzuz battle. 

"I think artists like Frank, in general, and like Tyler [the Creator] and whatever, they made it easier for me to be where I am, comfortably," Lil Nas X said a holiday episode of Zane Lowe's #AtHomeWithAppleMusic show. 

Nail Polish

Tyler, the Creator is a mega rap star of the highest order so for him to so casually rock manis is powerful in encouraging men to express themselves. 

And while this may seem like a trend that he's just recently leaned into, the Cali native has been keeping pampered since as early as 2016. 

Sonic Evolution

Tyler's sonic evolution has been as pleasant to see as his personal one as he's grown from a dark grunge sound to a far more palatable sound with melodies, horns and piano chords in his later work,

Just listen to "Yonkers" from a decade ago and compare it to "Wusyaname," the difference is night and day. 

Business Acumen

From owning his own music festival, the Camp Flog Gnaw Carnival, to owning his own clothing line, label and brand, there's something to be said about Tyler, \the Creator's business acumen, 

His deal with Adult Swim, where he premiered his sketch comedy show Loiter Squad is a move only a handful of rappers his age have done and still hold cultural value, not to mention launching the careers of his friends.  

Starting off from his Wolf Gang emblem, he's been able to create a niche fanbase that rides for his music, merch and tours, which has enabled him to leverage deals with investors as well as put out anything knowing it will succeed.