The Sound Of Crenshaw: Terrace Martin Shares Never Before Told Stories Behind The Making Of 'Drones'
In part two, BET.com talks to the acclaimed multi-hyphenate artist as he breaks down song choices from his new album.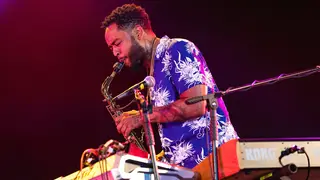 Even if you're not familiar with Terrace Martin, the performer, you're sonically aware of his multi-instrumentalist production and compositions. His work has been an essential part of music history. From producing tracks for legends like Snoop Dogg and Lalah Hathaway to headlining two all-star groups, Dinner Party and R+R=Now, Martin's melodies are as captivating as his life story.
A true South Central original, his environment and involvement in the Crenshaw District and the historical Leimert Park Village shaped his perspectives that filter heavily throughout his discography. Despite coming up in very dangerous areas of SoCal, Martin was able to use the lessons he learned from family, friends, and O.G.s to create safe spaces for himself and others. And now, with Drones, he has finally learned to "shut the f**k up," and instead, actively listen to the sounds that call out to him.

The result is a 13-track trek into "Black Disneyland," a description of how the multi-hyphenate explores the Black American experience and finds beauty even within the most discomforting scenarios. Drones includes appearances from longtime collaborators (Snoop Dogg, James Fauntleroy) and spotlight up-and-coming talent (Channel Tres, Celeste, Cordae) — serving as a keyhole through which listeners can be enveloped in a sonic love letter to the neighborhood that raised Terrace Martin.

In part two of BET.com's exclusive chat with the Grammy Award-winning winner, Martin pulls back the curtain to share never-before-told stories about some of the songs he selected for this album.
Artist Terrace Martin Drops New Album 'Drones' As A Love Letter To Crenshaw
---
BET.com: To delve into some lines within your love letter to Crenshaw, I wanted to ask for some never-before-told stories about certain tracks from Drones. You down? 
Terrace Martin: Let's go.  
BET.com: The first one is "Griots of the Crenshaw District" with yourself, Hit-Boy, Kamasi Washington, and Robert Glasper.
Terrace Martin: Hit-Boy produced that record and was very hands-on with it. I love him, man. He's one of my favorite human beings. Real quick, I remember seeing him being a hungry, working producer, who knew who he was — a Pasadena, young G. I'm so happy that he's getting all this acclaim, and to me, he's the best hip hop producer in the world right now.  
With "Griots of the Crenshaw District," he was in the studio with me, Kamasi [Washington], and my guy Tim Reed, who's also very hands-on when working with me. I had a beat up, but we didn't write any words to it, yet. I wanted to do something for the hood and express who we are. Kamasi came in and delivered right on the money. 'Bro, we're griot of the Crenshaw District,' is what he said to me. 'That's what we are, we're storytellers.'
Oh, sh*t! When he said that then the melodies started to come through. On "Griots of the Crenshaw District," it is loving but aggressive, and I wanted something that painted that picture. Hit-Boy came with the f***ing drums, the 808s, and Kamasi and I came with the horn lines, and Marlon Williams was on the guitar. I sent that out to Robert Glasper to play rogue and add his magic to that. 
At the end of that, I felt like we were in a band and that sh*t would be called the "Griots of the Crenshaw District."
BET.com: The next one is "Leave Us Be," which I thought had Justus West playing guitar on it. 
Terrace Martin: I love Justus [West], but he's not playing guitar on that. Instead, he's singing vocals on the song. There are two guitars on "Leave Us Be." There's Jeff Gitty and Marlon Williams. Williams has been on everybody's joint who comes out of the West Coast. He's a legend and has been on so many hit records, it was an honor to have one of the best guitar players in our generation on this song.
At first, I didn't know what "Leave Us Be" was going to be about. I don't remember what studio we were at, but it was myself on keys and singing melodies; Trevor Lawrence, who was the other co-producer, on drums; Dennis Hamm, who writes a lot with Thundercat, was on keys; and then you had Jeff Gitty on bass and guitar. The groove came in so funky and I loved the way I was feeling on it. I am a Michael Franks fanatic, and "Leave Us Be" reminded me of those vibes, which is why I'm getting my singing on.  
I nailed the melody down, then called in the genius Jason Martin (rapper Problem), and shared with him what I was feeling. He always has the right words to put to every f***ing note. It was as if Michael Franks pulled up on Crenshaw and Slauson, ate good at my auntie's house, and then went to the studio after that. That's pretty much the sound of the song, and then the message inside of it was, leave us the f**k alone. If you're not coming to our aid, Mr. Police Man, then leave us the f**k alone.  
BET.com: The next one is "Tapped" with Channel Tres and Celeste.
Terrace Martin: Ah, man, I remember that night. I'm a fan of Channel Tres. He's a young DJ, producer, artist, and creative force from Compton. Just one of the baddest m*****f*****s on the planet. He sees the future and his heart is so huge and warm, and I wanted to tap into that frequency. I couldn't do it alone and he was somebody from the West Coast that could be my guide into that world.   
We were at Challenge Studios. I played my album for him, he looked at me and said, 'Oh, I got something for you.' 
He then starts singing the hook, got out his computer, placed in some drums, and then Robert Glasper came through and played keys on that. I started playing as well, which led to the homegirl Celeste, a beautiful and high-skill level singer-songwriter, jumping in with the good vibes. She knows how to talk directly to the heart through her music. The message in that song is that the "Drones are tapped," and m*****f*****s better stop talking so much. Start listening and learning.  
The world is only getting darker, so the only way to survive this type of turmoil is to listen, learn, and lead with love. It's the only way, bro. It's the only way.  
BET.com: The last one is the title track, "Drones," with you, Kendrick Lamar, Ty Dolla $ign, James Fauntleroy, and Snoop Dogg.
Terrace Martin: Man, Snoop [Dogg] just texted me, too. Please send love and power to him and his family.
Terrace Martin: As I said before, the idea started five, six years ago. When the beat was done, we had just finished with To Pimp A Butterfly, and I was in a different mind-state. I drained every last bit of my spirit and energy into that album. I was walking around like a damp rag at that point. I had no ideas. It was then when Kendrick [Lamar] called me like, 'Yo, I'm at the studio in Santa Monica, pull up.' I thought I was going to pull up with some ideas, but I had nothing [laughs].  
But every time I see Kendrick, I always have something for him. If you were to look at my text thread, we would go back and forth talking about music and trading ideas. So, I had this old drum machine, an Alesis HR-16, and all I had was a drum loop and a sparse melody. I took this one minute loop to Kendrick and we were just on our phones, on the internet, and then when he heard the beat, he said, 'Yo, I'm going to name [this] Drones and talk about the relationship between us, computers, and different things like that.'  
When he did that I was into the idea of the song. He did a little reference and you'd be surprised to know we've been working on that song for so long that Kendrick just turned in his final vocals three months before we dropped the project [laughs]. 
I have 37 versions of this song [and] this is the one I felt good about. So, fast forward, and I'm hanging out with Punch, and he likes the idea, then says the whole album should be called Drones. And that's his gift, right, Punch has the ability to turn into a creative anchor. You need that, and that's how the whole thing came together. 
It was Kendrick, sparking the idea to take shape, then Punch coming in to throw gasoline on that m*****f****r, and then I went to the forest and chopped down every tree, brought the wood to the studio, and we watched it burn up from all of that positivity.
Drones is now available on all digital streaming platforms. 
Read part one of our chat here.
---
Kevin L. Clark is a screenwriter and entertainment director for BET Digital, who covers the intersection of music, film, pop culture, and social justice. Follow him on Twitter @KevitoClark.