Report: Juelz Santana Sentenced To Two Years In Prison
The Dipset rapper was reportedly sentenced by a New Jersey judge on Wednesday morning (December 19).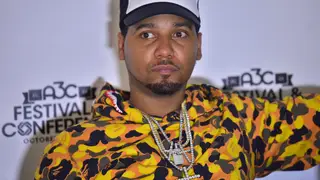 According to an official report from TMZ, Harlem rapper and Dipset member Juelz Santana has officially been sentenced to 27 months behind bars on the March weapon and drugs case.
TMZ states that Juelz received the sentence by a judge in Newark, New Jersey

The judge reportedly added a 12-month supervised release mandate to the sentence as well. Currently, there is no information on when he will be scheduled to surrender for his sentence. 

ICYMI, the sentencing stems from the aforementioned March incident at a New Jersey airport

Juelz was reportedly caught trying to move a .38-caliber handgun and eight oxycodone pill through the Newark International Airport. Upon discovery by TSA, he ran off from authorities, sparking a manhunt that came to a close after he surrendered himself thereafter.

The "There It Go" rapper ended up pleading guilty to unlawful possession of a weapon and possession of a controlled dangerous substance, both charges for which he will serve the sentenced time on.