Damn! Barack Obama Could Get Paid This Much For Writing His Presidential Memoir
The bidding war is on.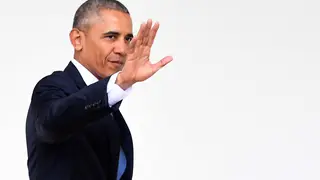 Barack Obama had to see much of his legacy go up in flames the mooment Donald Trump was elected President of the United States, from the dismantling of Obamacare to threats to the Paris Climate Accord, the reversal of TPP and many, many other key issues.
While the former POTUS may not be able to do much to curb his successor's appetite for destruction, he'll have a chance to preserve his legacy by way of a presidential memoir. And, by the looks of early numbers tossed around by potential publishers, the world is hungry for Obama's words of wisdom and perspective.
According to the New York Times, Obama could fetch an advance of more than $20 million for his memoir — more than any other president in U.S. history. By comparison, Bill Clinton was paid $15 million for his 2004 autobiography My Life.
Put our outgoing POTUS isn't the only Obama who could get a seven figure check for writing a book: former First Lady Michelle Obama is reportedly being offered in the ballpark of $10 million for her memoirs.
Clearly, America and the world needs the Obamas' voice more than ever. Hopefully these memoirs will come sooner than later.