African-Americans Urged to Get Screened for Glaucoma
African-Americans are six times more likely to develop glaucoma compared to their white counterparts, which can lead to blindness.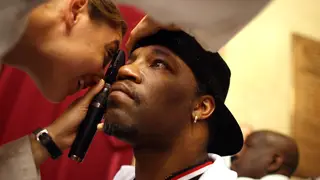 Glaucoma is a series of eye conditions that lead to damage to the optic nerve. This nerve carries visual information from the eye to the brain. In most cases, damage to the optic nerve is due to increased pressure in the eye (intraocular pressure).
Unfortunately, African-Americans are six times more likely to develop this disease compared to their white counterparts. And not only are we 16 times more likely to go blind due to this disease, but we are also more likely to be undiagnosed. 
The researchers found that a universal, community-based glaucoma screening program for black people aged 50 to 59 without glaucoma would reduce the prevalence of undiagnosed glaucoma over their lifetime from 50 percent to 27 percent. The analysis also found the program would reduce glaucoma-related visual impairment from 4.6 percent to 4.4 percent, and glaucoma-related blindness from 6.1 percent to 5.6 percent.
For every 58 people screened, one person would be diagnosed with glaucoma, according to the study, while 875 people would need to be screened to prevent one person from becoming visually impaired.
Researchers wrote, "We conclude that routine screening for glaucoma in African American individuals is a potentially clinically effective and economical method to reduce the burden of glaucoma-related visual impairment and blindness, though its absolute benefit is likely to be modest."
—Open-angle glaucoma is the leading cause of blindness in African-Americans. Half of those with glaucoma don't know they have it.
—Glaucoma strikes earlier and progresses faster in African-Americans
—The risk for glaucoma is 20 percent higher if glaucoma is in your family.
—Having diabetes, poor vision and taking certain steroids can increase your risk of developing glaucoma.
For many people there are no symptoms and when there are symptoms, it's in the late stage of the disease. Some symptoms include seeing halos around lights, vision loss, redness in the eye, nausea or vomiting, pain in the eye and tunnel vision. Open-angle glaucoma cannot be cured, this is why it's important to get tested and diagnosed before a lot of damage has been done. Once your glaucoma has been diagnosed, there are a range of treatments that can help and preserve your eye sight.  
In terms of prevention, a 2011 study found that using drops that lower eye-pressure decreased the chance of high risk African-Americans developing glaucoma. It's also important to note glaucoma doesn't just happen to older people: More and more studies are finding glaucoma is affecting younger African-Americans as well.
To learn more about getting tested for glaucoma and treatment for the disease, go here.
BET Health News - We go beyond the music and entertainment world to bring you important medical information and health-related tips of special relevance to Blacks in the U.S. and around the world.

(Photo: Spencer Platt/Getty Images)