Viola Davis Is Ready For Battle In Her New Film 'The Woman King'
The film is set to hit theaters on September 16th.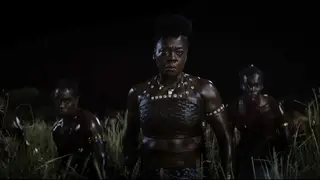 Viola Davis is taking her throne in her new film The Woman King which is set to hit theaters exclusively this Fall.
The film is inspired by the story of the Agojie, the all-female unit of warriors who protected the African Kingdom of Dahomey in the 1800s with skills and a fierceness, unlike anything the world has ever seen. Davis plays General Nanisca, who is training the next generation of recruits and readies them for battle against an enemy determined to destroy their way of life.
In addition to Davis, the film also stars Thuso Mbedu (who plays Nawl), John Boyega (who plays King Ghezo), and Lashana Lynch whose role is under wraps.
Check out the trailer below and make sure you see it in theaters on September 16th.