Cornel West: Striking Syria Without Congress' Approval Is Impeachable Offense
Princeton professor Cornel West says Obama defying Congress on Syria would be a war crime.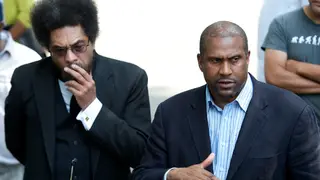 As President Obama struggles to win congressional support to strike Syria in retaliation for the alleged use of chemical weapons, Princeton professor Cornel West is sending out a warning flare.
Moving forward with air strikes without congressional approval, West said, would be an impeachable offense.
West issued the warning during an exchange this week with Smiley and West co-host Tavis Smiley.
"If the president doesn't get the vote that he wants, then I hope he has more sense then to go ahead anyway. But you used the phrase 'dictatorial' — and that's exactly what it would be," Smiley said.
"You would think in some ways grounds for impeachment," replied West.
West also said defying Congress would be a war crime.
"It would be an illegal war. It would be an immoral war for the United States to begin bombing and sending missiles to Syria and killing more innocent people," he said.
BET National News - Keep up to date with breaking news stories from around the nation, including headlines from the hip hop and entertainment world. Click here to subscribe to our newsletter. 
(Photo: Earl Gibson III/WireImage)