Sources Say That Rihanna's Baby Boy Is 'Healthy' And She Is In 'Awe' Of Him [Report]
Rihanna and A$AP Rocky reportedly welcomed their baby boy on Friday, May 13th.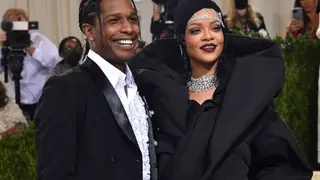 Rihanna and boyfriend A$AP Rocky welcomed their first child together on Friday, May 13th, and like most parents, she is in bliss with her new baby boy. 
According to People, the proud mom is reportedly in 'awe' of her son and say's that the singer 'barely leaves his side.'
"Being a new parent is of course an adjustment, but they are doing great. Their baby boy is healthy and Rihanna is just in awe of him," says the insider. "She really was so excited to be pregnant. She loved it. Meeting her son was of course extremely special too."
Rihanna and Rocky have yet to release an official statement, but we are so overjoyed for them. We can't wait to see baby photos! 
Until then, take a look back at some of Rih's iconic maternity fashion photos.