Diddy Confirms Jermaine Dupri Verzuz Battle
The bout is scheduled for this fall.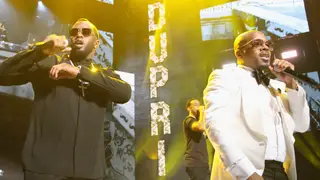 One of the most fan-requested Verzuz in recent memory is finally going to take place.
Via a video posted to Busta Rhymes' Instagram account, Diddy revealed that he and Jermaine Dupri will face-off at Madison Square Garden on Friday, September 8.
"We're gon' have you out the rafters flying out the sky," the Bad Boy Records founder told the New York rapper in the clip.
The battle between Diddy and the So So Def founder will pin two of the biggest producers in hip-hop and r&b during the late 1990s and early 2000s. Last August, the two moguls debated who had the stronger catalog, teasing an event similar to Verzuz.
If the Verzuz happens as scheduled, it'd be the first one since Luny Tunes and DJ Nelson faced off last July in "A Salute to Latin Music Producers" battle.