From Alabama To South Africa, 'Black Panther' Is Rooting For Everybody Black
Finally, a film that acknowledges that our story doesn't begin with The Middle Passage.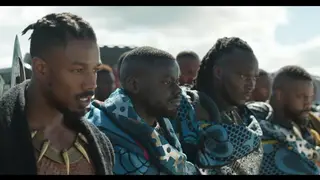 It was a moment destined to go down in Black Twitter history. Last year, on the Emmys red carpet, the great Issa Rae was stopped by a reporter who asked the Insecure star who she was specifically cheering for at the awards show. In response to the mundane (and high-key pedestrian) question, Issa flashed her trademark Cheshire Cat grin and said, without missing a beat:
Five simple words, and we had a new rallying cry. Of course, while I was pleasantly surprised to hear them spoken so bluntly in the face of a non-Black reporter, there was nothing inherently groundbreaking about Issa's sentiment. I mean, what kind of Black person (besides Omarosa, Ben Carson, Stacey Dash, Herman Cain, or Clarence Brown) doesn't cheer for other Black people? In fact, the opposite is true. If I see a sport that is like 99% White (re: The Winter Olympics) and suddenly see a Black person in it, I am going to cheer for that Black person. Or, hell, if I'm watching something like Jeopardy! and see a Black family on there, guess who I'm cheering for? The Black family!
But there was something powerful in Issa's simplicity. In short, I, too, am rooting for everybody Black. We all are. We all do. Mostly because we're all we got. And also because despite our internal issues (diaspora wars, colorism, queerphobia, transphobia, and misogyny), Black folx, for the most part, stick the fuck together.

You're probably wondering how Black Panther is related to this. Well, it's quite simple really. That type of "togetherness" and solidarity often finds its way into our everything, including our art and media. And Black Panther is no exception. In fact, I'd argue that the history-making hype train that is currently chugging around the world for Black Panther is perhaps the greatest and most significant real-life manifestation of the "I'm rooting for everybody Black" phenomenon that we've seen in recent history. I know, I know. The Noteps and the Fake Wokes among you will probably be quick to point out who initially created Black Panther(Stan Lee and Jack Kirby), how they weren't Black, and how Black Panther is technically not ours. But considering the work that Black creatives like Christopher Priest, Reginald Hudlin, Ta-Nehisi Coates, and Roxane Gay have put into T'Challa and Wakanda over the last couple of decades, I would disagree.

Black Panther is ours. Firmly so. And he is ours in a collective sense as well. I say this for a variety of reasons, but I'll start with this one:

1. Ryan Coogler and his team have made certain that Black Panther is a "family affair."

Black Panther is for the entire family. And I don't mean family in the literal, blood-related sense or in that "family-friendly" sense. Nah, I'm talking family in that "We Black. We all family" sense that Tupac reminded us of in Poetic Justice. I'm talking about how, within Blackness, everyone is either your [play] cousin, or your auntie, or uncle and so on and so forth. We are all extended family, so to speak.


And Coogler is using this as an opportunity to get everyone in the diaspora to join in on the party. To take part. To add something great. For starters, Coogler not only made sure that Black American actors were involved (like Chadwick Boseman, Angela Bassett, Michael B. Jordan, Sterling K. Brown, and Forest Whitaker), but he also got other Black actors from around the globe involved. There are Black Brits like Daniel (who is of Ugandan decent), and Letitia Wright (who is of Guyanese descent). We have reps for Zimbabwe (via American-born Danai Gurira), Kenya (via the Mexican-born Lupita Nyong'o, Uganda (via Florence Kasamba) and South Africa, (via John Kani).

The inclusion of the global community does not stop there either. I know we have all gushed about Ruth E. Carter sticking her whole ass foot in the costume designs for the movie, but I really want to highlight the importance of her taking cues from different African countries and different current African tribes across the continent to ground the reality of Wakanda.

In a video for Racked, Carter details some of the sources she cited when creating outfits for the entire cast. For example with the Dora Milaje, Carter took inspiration from the Turkana tribe—specifically for their red colors—as well as the Himba tribe. She also specifically created the Dora Milaje neck rings based on designs inspired by the Ndebele tribe. For their more lax, beady outfits, Carter referenced that the bead-work was based on the Massai tribe. In the case of principal characters like Nakia and Queen Ramonda respectively, Carter followed the example of the Suri tribe for Nakia's green ensemble while Ramonda's immaculate headdress and outfit were inspired by the Zuri tribe. To top this off, Whitaker's Shaman robes look as if they were based on the taking some cues from the Nigerian agbada (Carter confirms the Nigerian influences).


Of course, there are many more examples from where those came from, but you get the idea. There is clearly cultural interplay and conversation being had throughout the diaspora via this movie production and it's absolutely fantastic.


Still. There is one more reason why I say this movie is for everyone in the diaspora:

2. There's a place for everyone in Black Panther's story.


I can't really talk about having dialogue across the diaspora if I don't acknowledge the importance of personal narratives and identity and how the two might affect each other in this film.

For example, I myself operate in a weird space in this conversation about diaspora because I identify as both Black American and Nigerian American. I have that weird first-generation American thing going on (where I am almost perpetually lost on certain things), but at the same time, my parents did what they could to instilled a strong sense of pride in my Nigerian roots while simultaneously raising me in a very proud and culturally rich Black American community. This is where my choice to identify as both stems from and ironically, I see both being represented in the examples of T'Challa (our protagonist) and Erik Killmonger (one of our antagonists).

I say this because identity and personal narrative seem like they'll be playing a huge part in Black Panther, especially for the title character T'Challa. He is a proud Wakandan [king] who is fully aware of his heritage and its responsibilities and will fight fiercely to protect that-- which includes fighting off all of Klaue's bullshit (aka White imperialist and colonialist influences). T'Challa's investment in this pride in himself and as a Wakandan, makes it so that he is the legitimate African. His security in this makes it so that he was, at one point, able to go abroad, stand-in for Daredevil, and live among Black Americans in New York like they were his own people because he knows exactly who he is, how he relates to them, and where he fits in the grand scheme of things.
Now compare this to that of Erik, T'Challa's foil and nemesis in the film. Canonically, Erik can be described as the lost/prodigal son of Wakanda (a clear nod to the weird place that Black Americans occupy in the diaspora). His story (combined with T'Challa's) is basically one of family — brothers — separated generations ago by factors outside of their control. For Erik, these factors included Klaue blackmailing his father into treason and causing his family to be banished into exile in New York and leaving Erik with an understandable grudge. He had been displaced from his heritage. His home. This made it so that he didn't exactly fit-in in the states or abroad. And this, fair or not, branded him as the illegitimate African.

I find his story interesting for so many reasons but mainly this:


While Eric's story is not an exact copy of the story of Black people in America or the story of Black people around the globe who have found themselves, one could argue that some interesting parallels can be drawn. Due to the interference and meddling of colonial powers (in the form of Klaue) as well as abuse and mistreatment of Erik's father and by extension Erik (a metaphor for the experiences of Black Americans and other diasporic Black people), Erik finds himself in a strange land and a long way from his ancestral home by way of colonialism and slavery (and, you know, not voluntary immigration like your shitty McGraw-Hill textbook might make you believe). He essentially has to start from scratch and adapt to survive: in other words, start a new way of life, a new culture.

It's not very easy for him to go back either, especially since he came to America fairly young and grew up there (compare this to centuries of continental Africans being removed from their homelands, forced and coerced into shedding their ancestral identities and with no opportunity to return). This makes Erik's exceedingly relevant to those of us in the states as well as serves as yet another another example of the timely and subversive political messaging of the film (considering what is going on with the Dreamers as we speak).
The pain of being separated from your history and home like that is unmatched. This can and does breed resentment. But you know, I see Black Panther potentially taking his story and trying to do something meaningful with it that helps a lot of us start to heal from this kind generational baggage that Erik's story nods to. Many of us, be us diasporic or continental, understand the pain of feeling like you have no identity. Or the pain of feeling like you have to choose between multiple identities. Or the pain of having an identity, but having the pride you carry with it shamed out of you. Or the pain of not knowing how to connect with or to any identity or heritage at all because do not to how...and simply don't even know where to start. And all of this is rooted in the disgusting and barbaric way in which colonialism and White supremacy ripped our collective family, history, and heritage to shreds, scattered it to the wind, and left us behind to pick up the pieces.

But we are a proud people. With an indomitable spirit. And despite the atrocities wrought against us (both against those of us who remained in the motherland and those of us who were taken from it), we have persisted. We have built up new families, new traditions, and new cultures despite a concentrated effort by White supremacy to demean us and erase that.


Which is why the film's influence and importance should not be underestimated. Because not only do folks like Coogler and Carter come together to create a piece of media that reflects these sentiments and can be enjoyed by every last one of us, but they also have potentially created something that everyone in the diaspora can look at and say, "Hey, that's me! I see myself in this person. In this story."

And that is irrevocably essential.