This Day in Black History: April 17, 1990
Ralph David Abernathy was the best friend to Martin Luther King Jr., and King's successor as head of the Southern Christian Leadership Conference.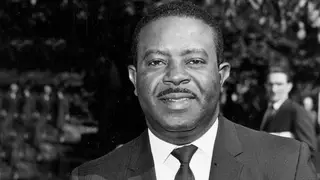 Born in Linden, Alabama, Abernathy graduated from Alabama State University, where he served as student body president and class president. He also worked there as dean of men and as a professor of social studies and mathematics. In 1952, he became the pastor of the First Baptist Church in Montgomery. He also became the first Black man to host a radio show in that city. In 1955, he and his close friend Martin Luther King organized the Montgomery Bus Boycott, which lasted 381 days and challenged segregation on buses. For years, he was King's best friend. The two were inseparable and often shared the same hotel rooms and jail cells,  and they spent considerable time together with each other's families.
After years of leading the civil rights group and immersing himself in politics — he ran unsuccessfully for Congress — he published an autobiography, "And the Walls Came Tumbling Down," detailing his friendship with King. Abernathy died in 1990 at age 64.
BET National News - Keep up-to-date with breaking news stories from around the nation, including headlines from the hip hop and entertainment world.
(Photo: Reg Lancaster/Express/Getty Images)