Bia Reveals Her Secret Talent, Plus 5 Times She Proved She Really Does Put On Jewelry To Go To The Bodega!
We created a quick style guide of the 'Whole Lotta Money' rapper as we gear up for the 2021 BET Hip Hop Awards.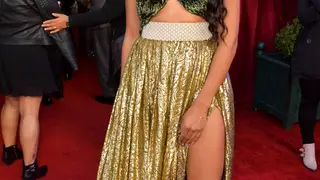 Bia has been setting the internet ablaze with her latest single, "Whole Lotta Money." You know, the viral song on social media that has us all wanting to put on jewelry before going to the bodega? We thought so. *wink*
Since the song has gone viral, we haven't been able to keep our eyes off her Instagram timeline filled with fashionable snapshots and trendy videos. With our daily dose of Bia on social media, it's easy to notice that the Massachusetts rapper has a stylish persona that consists of fiery orange hair, bold fashions, eye-catching manicures, and you'd guess it...bling. 
"I'm a warm person, so warm energy definitely resonates with me. I think that's why I love the color orange so much," the 30-year-old Leo shared in an interview with Snobette. That makes total sense for the model who's always serving up flaming hot looks that always match her manicures. 
Fun Fact: Speaking of manicures, the rapper revealed on Instagram that she actually does her own nails! To highlight her hidden talent, she's even created an Instagram page called "Nails For Certain" to highlight her nail art.  
As for her diamond jewelry collection, it seems to be endless. As we gear up for the BET Hip Hop Awards 2021, we decided to highlight our favorite fashion and beauty moments from the "Hollywood" rapper.
The smoking hot lyricist cooled off in her Icon Swim monokini with layers of icy diamond chains.

The "Same Hands" rapper carried a Brandon Blackwood bag while flaunting her orange and glowing embellished nails.

The former "Sisterhood of Hip Hop" star wore this fun and protective hairstyle to sizzle in her "#FreeBia" video.

The "Cover Girl" rapper, who is also a model, never hesitates to show off her curves that always fits in all the right places.

Bia looked muy caliente in a striped bodysuit that fit like a glove, along with a diamond cuban link chain.

For more memorable moments, watch the BET Hip Hop Awards 2021 on Tuesday, October 5 at 8 PM ET/PT.