Reginae Carter Speaks Out on the Fight at Clark Atlanta University
Was she really involved?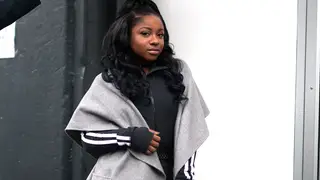 Reginae Carter and her mom, Toya Wright, recently paid a visit to Clark Atlanta University to tour where she may end up going to college.
Everything seemed to be going good until video surfaced of Lil Wayne's daughter getting caught up in a fight. Now, Reginae wants to clear up any misunderstandings.
Taking to Twitter, Carter says she didn't fight and that rumors of her being involved are incorrect, to say the least.
"When it ain't your fight but because you 'Reginae Carter' …," she wrote in a now-deleted tweet. "ITS YOUR FIGHT & your name gets put in the BS. #welcometomylife."
The video shows a fight break out right next to Reginae though it never shows her taking a swing. Apparently, her best friend Lourdes was actually involved after one of a group of "drunk" girls pulled on her sweater and she pulled theirs back.
Clear her name! Reginae's not about that life. You can see a small clip of what happened below.
Check out a BET Breaks video about Reginae Carter's involvement in the fight, above.